By Dan (EnviroGadget Writer) on November 18th, 2009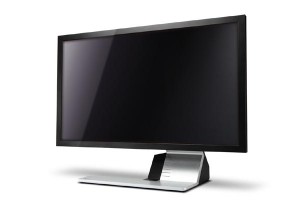 The Acer S243HL 24inch LCD Monitor is a super-slim 15mm thick monitor boasting full 1920 x 1080 high definition (HD) resolution, extremely high contrast ratio of up to 8,000,000:1, two HDMI interfaces and a nippy 2ms response time. Thanks to a special white LED design, the screen is mercury-free and uses 63% less energy compared to other monitors of this size.
The power usage of the Acer S243HL is rated at just 0.55W in standby, and only 17.15W when in use! Despite the very low energy consumption of the monitor, the white LED technology employed in the design is responsible for the high contrast display. The high contrast makes the monitor perfect for video editing, graphic design, or catching up on TV programmes!
Energy consumption of the monitor when switched off is 0.45W, so it's another monitor that needs unplugging when you're not using it, or just use a standby saver gadget.
The monitor is available for £222 plus delivery.