By Dev on April 28th, 2012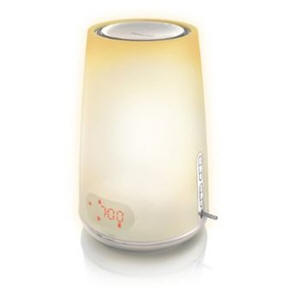 Getting up early morning is tough especially if you are living in Northern Europe or United Kingdom. Even in the London city, you cannot get light up to 7.50 am, which is really disturbing if your work is starting early in the morning or you have to take your dog for exercise before it pees in the early morning. During the winter fall, you will probably need an eco-friendly morning wake-up light. Why not to enter the era of latest technology and experience the new friendly gadgets like Philips HF3485 wake-up lamp.
This Philip lamp has been designed for such two million people of United Kingdom and Northern Europe, which according to SAD org are badly suffered by seasonal affective Disorder. This condition is dedicated for low energy or light seasons in Northern Europe where people are highly affected by depression due to deficiency of light. Although seasonal affective disorder lights have been around for a while, still you need the lamps which switch off & on to bring artificial light in your home. For those individuals which are working in the dark offices, Philips HF3485 is much helpful and a true friendly product.
Features of Philips HF3485
Philips HF 3485 is soft rising light with sound which wakes you gradually and featuring;
Drift to sleep with gradually dimming light of Philips HF485
Addition of new music and sounds with USB plugin support
Selection of four naturally pleasant and soft wake-up tones
Support of up to 250 lux soft rising light gradually increasing for natural wake-up
Snoozing of alarm- tap anywhere on lamp body to snooze smartly
Best selection for bedside lamp and helpful in reading
This new age Philips HF3485 is more resembling to alarm clock which is featuring SAD lamp with best function of alarm clock radio. When lamp is not brightest around up to 260 lux, this is helpful to getting up and goes for mornings, thanks to all the innovators who have added such quirky features and made the human life easier than decades before.
Unlike traditional alarm clock which had rattling sound of frogs or fog horn and similar things you might have experienced in your mobile phones, Philips HF3485 will not blast you out of your slumbers, and things are performed in civilized patterns. Its soft, gentle tone will wake you up in more decent way and lamp will be brightened based on the darkness level outside. Philip HF3485 has been featured with 'sunrise mode' which means light comes gently around an hour before you need to get up and will slightly glow more with time passage to wake you up naturally. This is really an amazing technology when light will glow more to wake you and will adjust within 20 to 50 minutes for a cool alarm.
Clinically approved for pleasant light with not harmful effects
Philips HF3485 has been clinically tested and approved that light which wakes you up has no harmful effects and is pleasant to get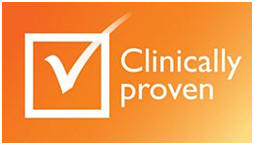 quality waking up early in the morning. As compared to ordinary tube lights which affect our eyes and also you may have experienced the difficulty during study at night time; this lamp has been specially designed to experience the light sensitivity which you require in the darkness.
According to an independent research conducted for this new Philips product, it has been concluded that 8 out of 10 users who are light wake-up users found it easy to get early in the morning with gradually increasing light of this Philips lamp. This research was conducted on total 209 persons and results are truly showing the benefits of newly designed Philips lamp which is environment friendly and much pleasant to use. For simulation of natural sunrise, a replaceable halogen lamp is used in this wake-up light.
A bedside lamp with smart snooze
There are twenty different brightness levels or settings which you can adjust to get better reading with this lamp and to use as bedside light source. There are many features which make this wake-up lamp as your first priority as compared to other products which are currently available in the market. For example, it has a smart snooze system which is easy to tap when you are sleeping and have no mood to wake up early morning in holidays. Anywhere on the lamp where you press your figure, alarm will be automatically snoozed.
A gradual decreasing light and soft sound drift the individuals to sleep. Along with other features, you can also set your time for dusk simulation duration.
Wakeup, face the Moo-sic
Unlike other ordinary lamps, Philips HF3485 doesn't have ordinary alarm system. Instead this lamp has been featured with four soft sounds to choose from, like birds tweeting in Jungle or cow mooing in fields early morning. This will be really so authentic for users of this lamp who are living in London. Similarly, if you wish your alarm system some more old, it has a FM tuner to wake you or you can use a USB stick to listen to your music for as long as you like to remain on the bed. You can also download different wake-up tones from Philips website and they have been designed with several themes to selection one from them.
For the users who like to sleep with light on them, Philips HF3485 has been embedded with 'sunset mode' which works similarly like a sunrise mode, except the alarm which will not come on when you nod off.
So, whether Philips HF3485 is worth to purchase? It is plenty of helpful and worth to buy. Although this lamp may not look as much powerful like other lamps you have tested, but this has been found good for bedroom environments. Its FM radio is not bit well like DAB and some people may not bother this but BBC radio6 music might be interesting. Its built-in speaker is worth as compared to other alarm clocks and radio gadgets which you have experienced before and menu can be handled easily with remote control.
If you are not really a morning person, still this lamp is perfect for you because of its light auto adjustment with time and alarm clock embedded system. Worth of information can also be found on Philips website, while its recommended price to buy is £132.77. If you want to avail the present discount, amazon is there to offer you this beautiful and cool features lamp at only £84.99 with free delivery.