By Dan (EnviroGadget Writer) on August 1st, 2008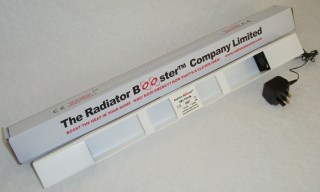 The Radiator Booster is an eco gadget that is installed above your radiator and uses small fans to circulate warm air away from the wall into the centre of your room. By moving warm air back into the room, the room warms up more quickly, meaning you don't need your central heating on for so long and therefore reduce the cost of your energy bills.
The radiator booster draws the hot air away from the radiator fins at the back of the radiator and ejects it out the ends of the radiator. By increasing warm air flow, you can reduce the time you need your central heating on by up to 50% and you can even reduce your thermostat temperature by up to 2 degrees Celsius.
The Radiator Booster only costs around 30 pence a year to run, which is considerably less compared to what you saving in heating bills. The average home would easily be able to cover the cost of the radiator booster in a single year with the amount of energy you save.