By Anita (EnviroGadget Writer) on November 30th, 2010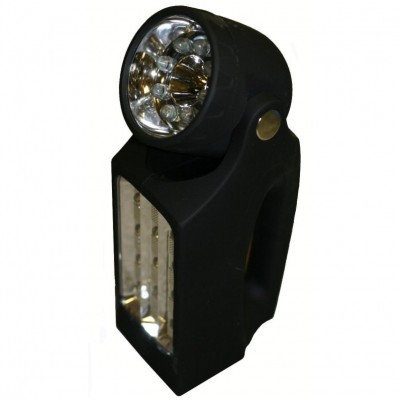 This 2 in 1 LED Wind Up Energy Saving Torch Lantern provides a versatile light that is ready for use whenever you require it. Perfect for emergency situations both at home or outdoors, the torch lantern can provide you with the illumination you need when you need it most without any worries over batteries.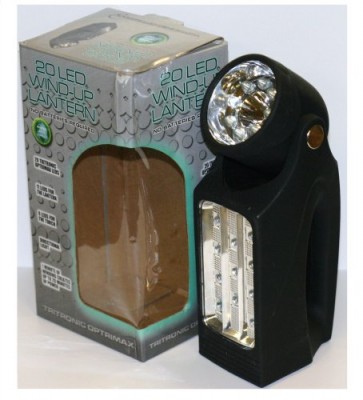 The  TO1005 by Proteam has both a torch and a lantern built into its design. Using 20 LEDs for illumination the device is powered by you through its wind up/crank handle. The light is supplied with a black soft touch finish. The torch of the device features a swiveling head, to allow you to direct the powerful light beam to where you need it most. The torch head uses 9 LED bulbs to produce a bright and focus white light that uses very little electricity.
The lantern of the device uses 11 LEDs to produce a more general bright illumination. The base of the device is magnetic to allow for secure positioning. The wind up/crank handle of the device neatly folds away when not required to help the device be convenient for storage. This 2 in 1 device allows you to have both the lantern and the torchlight active at the same time, or to use whichever one you wish to in that situation. This versatility helps to ensure that the device is suitable for use in any emergency lighting situation, or for use in outdoor activities such as camping.
The wind up or crank handle of the device can provide you with up to 20 minutes of illumination from only 1 minute of winding. This eco-friendly energy source makes this device an ideal item to be kept on hand for any lighting emergencies, perfect for keeping in the car or around the home to light you way when you need it most. The light frees you from any worries over batteries and unlike solar powered lights no forethought is required to ensure the light is ready for use. Just simply wind the handle when you require lighting.
The 2 in 1 LED Wind Up Energy Saving Torch is yours for just over £20 and qualifies for free shipping!