By Dan (EnviroGadget Writer) on May 18th, 2009
For some reason, I really like kids eco toys, and the Dynamo Torch and Windmill Generator are no different.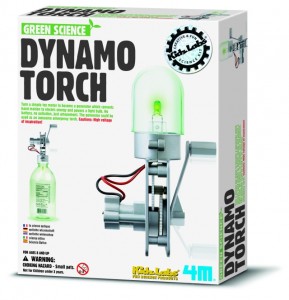 The Dynamo Torch kit is a an educational eco toy that demonstrates how hand-motion, i.e. kinetic energy, can be transferred into electrical energy to light a light bulb. The kit contains an LED light bulb, a motor, gears, and full instructions. A drinks bottle can also be used to turn it into a lantern of sorts. Priced at $12.20 and aimed at kids 8 or older.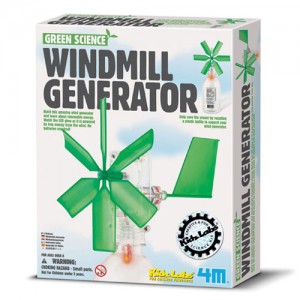 The Windmill Generator is very similar to the dynamo torch, but this time wind power is converted into electrical energy. The kit requires the kids to use a drinks bottle to support the motor and propeller. Then when the wind blows, the LED lights up. Priced at $9.95 and also aimed at kids 8 or older.