By Anita (EnviroGadget Writer) on February 18th, 2011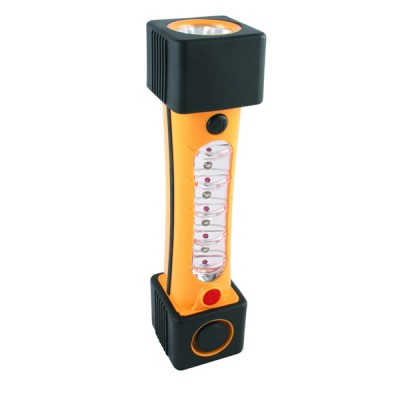 The Eco Siren Torch is a durable dynamo powered flashlight with a built in siren. The torch and siren are ready for use whenever you require them, simply crank the handle of the device to provide them power.
The Eco Siren Torch is a great device to have on hand in case of emergencies. The torch and the siren use power you yourself provide by cranking the attached handle. This allows you to use the device without fear of batteries running out as you can always crank the handle to provide yourself with more power.
The torch uses LEDs to provide a bright and powerful illumination and has 3 different light settings you can use: torch light, stable white side lights, or flashing red side lights. These different modes ensure you have a light suitable for any occasion, and are especially suited for drawing attention to an area.
The siren has a maximum loudness of over 100 DB, great for drawing attention. This makes it ideal for some emergency situations, but it can be useful in a variety of other situations, for example outdoor sporting events. The Eco Siren Torch is a great eco-friendly powered device to keep around for use. As it is powered through a crank handle you can use the device with confidence as there is never a fear of it running out of power when you need it most, or worry over how long it will last.
0 Comments
Home Gadgets, Lamps and Lights, Outdoor Eco Gadgets
crank power, crank powered, crank powered flashlight, crank powered LED torch, crank powered LED torch with siren, crank powered siren, crank powered torch, dynamo, dynamo LED torch with siren, dynamo torch, wind up, wind up siren, wind-up torch