By Anita (EnviroGadget Writer) on March 25th, 2011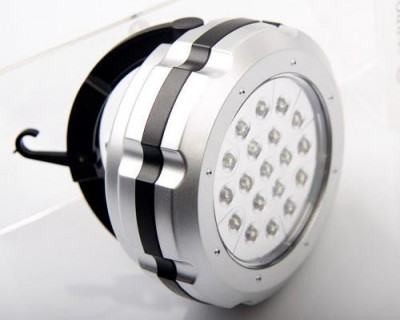 The Firefly USB And Dynamo Light is a wind-up multifunctional LED spotlight that provides you with a bright, focused light, a softer light or even an emergency light whenever it is required. The light makes use of a dynamo to produce the electricity, because of this there will never be any worries over it running out of power when you need a light most.
The Firefly USB And Dynamo Light has been made by Powerplus. The light uses 16 bright LEDs to produce a normal level of lighting, the light is able to take this up a notch and use the same LEDs to produce a brighter light on the high setting when it is required. Alongside these white LEDs the torch features 3 red LEDs, these are perfect for use as a warning light and can be set to be either constantly on, or flashing.
The Firefly uses a dynamo to power the LEDs and requires you to wind up/crank the handle to provide power. The light can be charged through a USB cable if required. By cranking the torch for just one minute you can provide yourself with either 25 mins of light at a normal level or 5 mins at a high level, it will also provide you with 45 mins of red LEDs flashing or 25 mins with them constantly on. From 3 minutes of cranking the light can provide you with 40 mins of normal level lighting and 9 mins of high level lighting. The device requires around 100 minutes of cranking to be fully charged, or 5 hours through the adapter. Once it is fully charged it can provide you with 12 hours of normal lighting, 2.5 hours of high power lighting and can power the red LEDs either flashing for 28 hours or fully on for 14 hours.
The light is designed to be easy to position anywhere to provide you with the lighting you require. It features an integrated hanging system that allows you to hang the light up wherever you want it and also includes a magnetic base that allows you to secure the Firefly light onto any magnetic metallic surface. The Firefly Light is a handy little light to have around to help light up any area be it out camping or caravaning, or around the house. Due to being powered through a hand crank the light will always be ready for use without the need for a constant stream of batteries.
Source: The Glow Company