By Anita (EnviroGadget Writer) on January 13th, 2010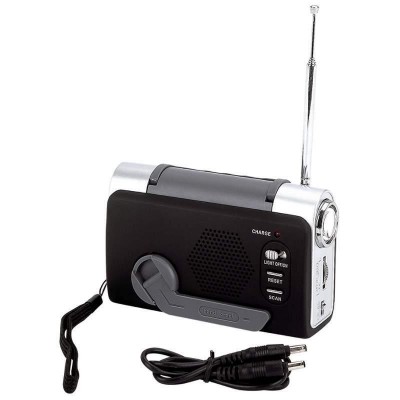 Using wind up technology, Mitaki-Japan have produced this FM/Weather Radio which has a LED flashlight built into it. With this one item you can listen to the radio, weather warnings, and be able to light your way.
The FM/Weather Radio comes with an earphone jack, a recharge jack and cord for mobile phones, and a wrist strap. It does have a DC output socket though it does not come with a DC cord. To charge the radio you wind it up using the handle on the side. From 1 minute of winding the radio you get 30 minutes of it powering the LED torch, 10 minutes of it powering the radio or 3 minutes of it powering the weather warning alert.
As this radio works on wind up technology there is no need to go to great lengths of preparation to use it, such as making sure you have charged batteries handy, or have remembered to leave it out in direct sunlight to charge though solar panels. As soon as you need any part of it then its ready to go as soon as you crank the handle. Your arm provides the energy that is converted into electricity to power the device.
The Wind-Up FM/Weather Radio With A LED Flashlight is available for around $20 USD.