By Dev on August 30th, 2012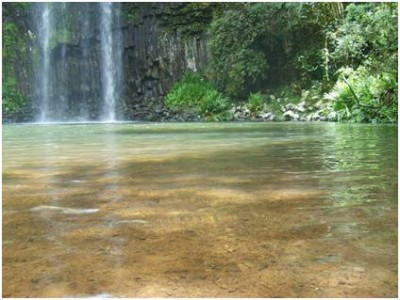 Australia is the eco-tourists favorite place because of everything thing about nature which can be experienced here. On top of a remnant ancient volcano on the east coast of Australia lays a rather vast and unusual forest. Known as Mount Warning or Wollumbin, it now boasts a living Gondwanan rainforest and has been nicknamed 'Australia's Green Cauldron'.
The landscape and ecosystems found here were formed by the land collapsing as the volcano erupted and includes World Heritage-listed parks. This extensive rainforest stretches from the Gold Coast to Byron Bay and across towards the Great Dividing Range.
You can walk through unspoilt tracts of ancient forest; immerse yourself in the Australian Aboriginal cultural experience and spot rare and special birds and animals.
During your travel to Australia, you will see such birds and animalshere are only found in these area of east, including the rare wompoo pigeon, rufous scrub-bird and Albert's Lyrebird which you can hear when wandering along the appropriately named Lyrebird Track.
For people who like to experience untouched places by foot, this is definitely the place for you. There are plenty of well-marked tracks meandering through sub-tropical rainforest into National Parks or you can take the O'Reilys Tree Top Walk where you can explore the vine-lined canopy.
Australia is well-known for its unusual and sometimes quite odd animals. When you visit the Green Cauldron you can share your picnic with kangaroos and koalas as well as the lesser-known squirrel gliders and spotted-tail quolls.
The Border Rangers National Park is where you will find Australia's highest concentration of marsupial species, including the platypus, bandicoots, echidnas, pademelons and flying-foxes. Eco-tourism is designed to benefit the local community and aware the people to contribute to their natural beauty as for as they use it. Eco-tourism is getting popularity among the tourists to learn about the depth of travel and tourism, along with carbon footprints of tourism, which can only be lessen with use of eco-tourism tips. The Eco-tourism from Australian eco-tourism organizations has been introduced around the world, and tourists will love to discover the hidden beauty of green cauldron of Australia. Moving around the cities to forest and wildlife, you will feel the amazing difference of cultural blend among the Australians.
If you enjoy outdoor adventure activities you won't be disappointed. Australian's Green Cauldron offers the opportunity to tramp through thick ancient rainforest, rock climb in the Mount French National Park, scale up Mt Maroon, Mt Cordeaux and Mt Barney for a to-die-for view across the ranges and distant volcanic plugs and swim in waterfalls and pristine creeks hidden away in the forest.
This eco-destination isn't all about amazing natural environments; there are also local hinterland towns and villages to visit and Aboriginal cultural experiences to check out, all of which will give you wonderful insights into Australia's history. In Australia, people love and friendly by their nature, they welcome you to view their eco-tourism, the green cauldron natural wonder of Australia.