By Dev on September 6th, 2012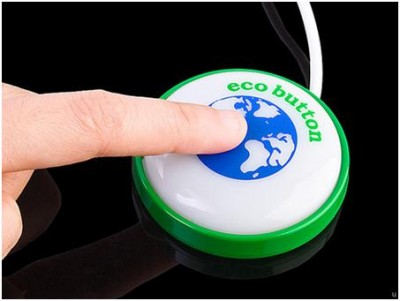 Some people have decided to not participate in global warming movements and perform anything which is best for their environment, but some have jumped on the band wagon and much to the frustration of others, now go around turning off all the lights and unplugging things. Whether we like it or not, this issue is not going to go away, global warming is here to stay! A joyful news for us and whole the citizens of this planet to save the planet and join hands together to Go Green once this Eco button has been invented by some brainy chaps.
A nifty little Eco button is helping to reduce the carbon footprint that we stomp on this earth by over-using our beloved PCs. How often have you left your PC on when it needn't be? Admit it; you know you've done it! (Me too… she says, falling off that band wagon!)
The Eco button plugs into a USB port – dead simple, so there's no excuse not to have one. When you're going to be away from your PC for a period of time, simply press the button and your computer will automatically start saving energy.
"Eco button", as quoted by the boffins behind this clever creation, "educates your PC to use the lowest power mode available to it whilst at the same time, remain capable of waking up quickly for you to resume work".
The only downfall is that your internet connection will be suspended also, so unfortunately your music downloads will pause. But I guess that's the price we have to pay to save the world.
The downloadable software available from eco-button.com will show you the amount of money and carbon units you've saved each time you've used the button.
It's a shame that the software doesn't come included in the Eco button package, as there could potentially be trouble downloading it. However, Eco button can arrange for a disc to be sent to you should you experience any problems; "nominal charge applicable".
The Eco button only works on PCs and laptops at the moment, but this has been assured that a MAC version will be available soon.It will run on Windows 2000, XP and Vista (32bit), will take up less than 5mb of your precious disk space and requires a minimum of 256kb RAM.
If you have decided to purchase Eco button, here you can buy at IWOOT* or Eco-button.com for £14.99. And if you're not that bothered about global warming, just think of the cash that you'll save, to spend on lots more fab gizmos!