By Dev on September 1st, 2012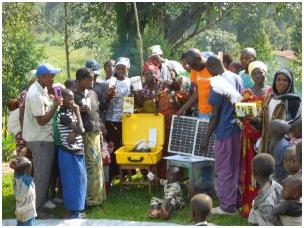 We have been taken for granted with several things in our lives which are often neglected. We rely on our medical system when we are sick. We have plenty of clean and amply equipped hospitals where we can give birth, or be made well. What if we didn't have any of those things? What if you or someone you loved had an emergency and the nearest hospital didn't even have electricity. Yes, places like that still exist, and people are dying there.
Checking the WE CARE Solar Suitcase which has been designed originally to offer timely emergency obstetric care in areas with few resources and no reliable sources of electricity(where women were commonly losing their lives during childbirth), the Solar Suitcase is a portable power unit that provides health care workers in any situation with highly efficient medical lighting and power for phones, computers and other essential medical devices.
Of course, by equipping these off-grid medical clinics with this useful solar power, these clinics can now offer appropriate emergency care, and not only for expectant moms, these devices can substantially improve overall mortality and morbidity rates and the quality of care for so many people living in regions where folks have long been without proper services.
The system costs only around $1500 to produce and includes high-efficiency LED medical task lighting, a universal cell phone charger, a battery charger for AAA or AA batteries, and outlets for 12V DC devices. The basic system comes with 40 or 80 watts of solar panels, and a 12 amp-hour sealed lead-acid battery with an expansion kit available for utilizing larger batteries.
Dr. Jacques Sebisaho revealed the power of the Solar Suitcase to save lives this December, when he returned to Idjwi clinic in the DR Congo. The clinic has no power, and when night falls, it is impossible to provide adequate medical care.  On this trip, Jacques had a Solar Suitcase, which was quickly put to use to illuminate a twin delivery!
However, Jacques arrival coincided with the onset of a cholera epidemic. The clinic was flooded with patients needing intravenous fluids, antibiotics, and constant monitoring. The clinic could not house all the patients in need of care, and mats were placed outside on the ground, creating a make-shift outdoor infirmary. The Solar Suitcase was brought from patient to patient, and enabled the team to provide constant monitoring.  Though Dr. Sebisaho feared many lives could be lost, he and his team achieved a near-miracle.