By Dev on August 9th, 2012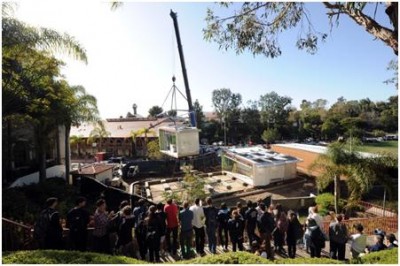 One Million Lights, a non-profit organization has been teamed up with SunPower Foundation to introduce solar education to the class rooms.  The project is aimed at education of rural sectors where maximum use of solar power can greatly supply the convenient electricity required and reduced rely on national electric grids for supply of the electricity.
Effective use of solar energy in rural areas of the all countries can reduce the burden of electricity production by national grids and this project will help to introduce the solar energy in San Francisco in three one-hour lesson plans.
This project will be applied to all the K-12 schools of San Francisco. This project will not only educate the youngsters to go and adopt solar energy but it will also arm them with solar energy production tools, including solar panels, as well as solar tools development and such other implications in the future.
SunPower foundation alliance with One Million lights highlights real life cases of solar energy use all over the globe and lessons incorporated with interactive learning kits such as solar powered LED and solar electricity testing kits. Teachers will be able to select the curriculum created for different education levels like high schools, middle schools and elementary schools. This solar project will be integrated with existing curriculum also and delivered by speakers and representatives of One Million Lights and SunPower.
The two groups piloted the program in San Francisco Bay area classrooms earlier this year. According to a teacher at one of the schools covered by the initiative, the education plan has greatly benefited the students where they learned how sunlight is converted into solar energy and the various benefits associated with going solar.
One Million Lights organization is dedicated to provide clean, solar energy to adults and children alike. Its aim is to distribute a million solar lights to replace risky and polluting kerosene lamps. The non-profit organization doesn't only focus on the US either; it also lends the expertise and services to countries across the world.
Similar to One Million Lights, Sun Power Foundation is also a non-profit organization which aims to educate the youngsters about tools required to become the world leaders in solar power and stop the energy crises through use of solar powered devices and gadgets. Sun Power also works with other groups and companies to distribute the education and material to communities which are willing to enter in the solar Era.