By Dev on September 2nd, 2012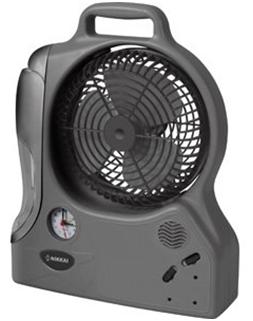 If you feel warm and sweaty sitting there in front of your computer, then a cordless solar powered personal fan could be something for you. This cordless fan uses the power of the sun to keep you cool. Not only does it keep you cool in the summer but it has an alarm clock and can charge your cell phone and MP3 player.
This solar powered personal fan is also perfect for camping and traveling. You can bring it with you for the trips with ease. It comes with a rechargeable lantern that has an LED light bulb. If you get stuck in darkness you can rely on a power outlet to keep your batteries fully loaded.
When the fan is fully charged it can provide 8 hours of fan use at full speed. The retail price of this solar powered personal fan is around $70.Until this past weekend came, the area where I live was experiencing near summer-like temperatures outside. I was even forced for a couple of days to kick on the old A/C for a little bit. Most of the time I made do with just some fans around the house, which got me thinking about how much power I must be using running those fans all the time. If I had one of these Solar Powered Cordless Fans, I wouldn't need to wonder.
As you might imagine, this fan draws all of the power it needs from the sun's rays. Personally, I think it's pretty cool that it gets power from the very thing it is working against. A full charge will net you around 8 hours of life, which isn't too bad. If you find you're out of juice and still need some air circulated, you can always just plug it into the wall. Of course all of this energy-saving comes at a price.
It's more than you'd pay for a similar non-solar fan, but just thinks of the electricity you'll be saving.This fan takes care of all of those issues. It can charge up your cellphone or MP3 player, as well as having an alarm clock, lantern and obviously, the fan function. With a full charge the fan can keep going for 6-8 hours on high.
If you run the fan on the low speed it can run for 12-16 hours. The battery takes about 5-7 hours of sunlight to charge up or you can just plug it into a regular outlet and charge it that way instead