By Dev on September 3rd, 2012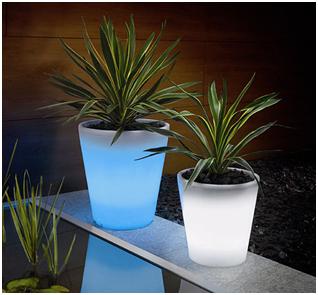 When a great idea comes to the existence in its physical form, it is always appreciated highly by the people and based on its advantages or benefits for the community; it is spread over the globe.
The Solar Powered Plant Pot with nine LED lights is perfect for those plants that you want to standout even when the sun goes down.  The solar panel charges the pot during the day and then at night it lights up in various colors making for a great visual piece during your summer night gatherings with friends.
The solar cell has a 3m cable so you have some flexibility on where you want to place the pot.  Let the plants enjoy the sun during the day and you enjoy the LED pot during the night.
If you're tired of all those boring little walkway lights to make your garden illuminated all through the night, this pot is a cute little alternative.  It works in the same way any of the other solar lamps works, it just happens to house a plant as well.  The odd little pot comes in either a chic looking white or the slightly geeky alternative which flashes between several different colors.  When you're committed to being a bit of a gadget addict, you can't have a pot that doesn't do some other function besides hold a plant.
Although I'm not exactly sure what type of plant could possibly go well with a glowing pot?  The poinsettia they show on the site just doesn't seem to fit quite right.  Now, if the pot could make the plant it glows, then that would be a neat trick.  Then your garden would look radioactive and keep things interesting.
The pot is being sold on Firebox's UK site the white one is being sold for about $39 and the color changing for about $45.  Which means it might take you a bit to save up to collect several of these guys. But what if the pot is shaded by trees, walls or fences, we hear you ask? No problem because its solar cell is on a separate spike connected to the pot via a 3m cable. Simply stick it in the ground and hide the cable. Genius, and no mains wiring required. What's more the whole shebang is splash proof to protect against the gorgeous British summer.
The length of time the pot glows is dependent on the amount of sunlight the solar panel is exposed to during the day, but in the UK you're looking at about 6-8 hours in the summer and 2-4 hours in the winter – more than enough for your average evening garden soiree.