By Dev on August 5th, 2012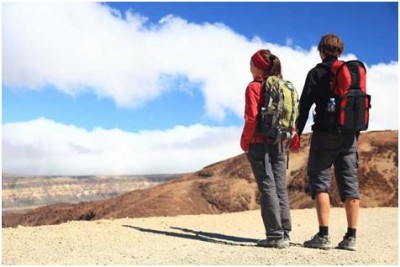 With many people starting to plan their annual holidays and keeping in mind for eco-tourism, International Union for conservation of natureIUCN has released a list of top ten tips for eco-tourists who wish to visit some of the beautiful places in the world, who want to see the natural beauty and not to damage the environment through their journey.  A report has been accompanied with these tips from IUCN, naming Sustainable tourism in natural world heritage, in which it has been stated that if eco-tourism is managed properly, it can contribute to both conservation of wild life and our natural environmental beauty as well as development goals in world most heritage sites.
From a resources conservation point of view, eco-tourism can raise the funds for protecting natural areas, it enhances the awareness among local communities and tourists of biodiversity and it will discourage the people to take the steps which are against the preservation of natural environment and may create more pollution. Eco tourism is a step further to tourism and concerned about development of local communities and their well-beings as well economic benefits to that country where more visitors will visit for each periodic time period.
Careful planning is at the heart of ensuring that World Heritage sites benefit from the high profile that comes with their global status, through collaboration between the private sector, local communities and site managers," says Giulia Carbone, Deputy Director of IUCN's Global Business and Biodiversity Program. "If managed sustainably, World Heritage sites can give tourists the opportunity to visit some of the most beautiful places that the world has to offer while benefitting the natural environment at the same time."It's sunny outside, spring is finally here and many of us are thinking about our summer getaway. What to do if you're an eco-conscious traveller? The IUCN has released their top ten tips for tourists who want to explore without damaging the environment.
Tourism, if managed properly, can raise funds to protect vulnerable natural areas, raise awareness around conservation issues amongst locals and tourists and encourage local people to conserve their environment.
Here are the top ten tips by IUCN which tell about how we should plan for our first eco-tourism and which things need more planning or need to be modified;
1. Visit destinations which are protected or World Heritage sites. Make sure you include visits and activities related to conservation projects. This will continue to generate revenue for these conservation projects. Various environment websites have lots of information about global protected areas and World Heritage Sites. There are many health resorts and eco-tourist places which have been included by world Heritage destinations and they are ranked to be visit each time you plan.
2. Travel light: This implies to limit the packing material and reduce the carbon footprints produced due to plastic and paper bags and other packing for luggage. This will only become waste in your holiday destination. Plus, it means more room for souvenirs!
3. Before you go, learn as much as possible about your destination. This will help to make your journey more enjoyable and you can make informed choices about what you do and buy once you're there.
4. Only use reputable local tour operators – preferably those who contribute to local conservation efforts.
5. Pick nature-friendly accommodation. Don't be fooled by a hotel proclaiming its eco credentials on its website – ask hotels what their environmental policy is. Have they implemented energy and water saving measures? Do they contribute to local conservation efforts?
6. Try to get to your destination by train or coach – you'll see more of the country you're travelling in as well as reducing your carbon emissions. The Man in Seat Sixty-One is a fantastic source of train information and timetables across the world. Consider offsetting your travel using a Gold Standard supplier.
7. Whilst you're eating out on holiday, choose your food wisely. Wherever possible, choose locally sourced produce that is in season. Be aware that endangered species may be on the menu without your knowledge – ask local conservation organizations for a list of what to look out for.
8. Never by souvenirs made from endangered species – this includes turtle and coral, amongst many others. Check out WWF's travel guide for more information. Also, be careful if you're bringing back plants or seeds from your travels – ensure they won't become invasive species in your native country.
9. If you're going wildlife watching, choose a reputable operator and don't disturb the wildlife – for your safety and theirs! Angry bears, anyone?
10. Make friends! Become a member of local conservation organizations in your destination.
There are loads of options if you actually want to get involved with conservation whilst you're on holiday. You don't have to go with a
large company, do a bit of research and contact a grass-roots organization which is making a difference. If companies are able to take people on short-term, they're often grateful for an extra pair of hands!
Effective management of the tourist trade, such as by using a 'green' bus system to ferry tourists around, allowing no other transport within the park's boundaries and banning visitors from staying in the park overnight, have led to Jiuzhaigou being seen as a model for other protected areas in China. Continued careful planning is needed to ensure that such high visitor numbers and the mushrooming of hotels and restaurants just outside the park's boundaries doesn't put the long-term sustainability of the site at risk.
From development prospective, there will be more income produced due to eco-tourism and generating to more jobs for poor economy. Many of such conservation organizations have started form small setup and seeing the value of benefits produced form eco-tourism.
Director of IUCN, Tim Badman has told that if eco-tourism is not planned properly and not managed with great responsibility, it can lead to biodiversity loss and left negative impacts to local communities in those places. Also in this report, various sites of the world which suffered badly from tourism not managed properly. Belize Barrier Reef system where uncontrolled lease and land development for tourism led to most endangered heritage of the world in 2009 and some of the environmental impacts of it included the coral dredging and mangrove cutting.