By Dev on September 10th, 2012
Tourism is among the top rising economic sectors and now great focus is to use eco-tourism which should reduce the carbon footprints of tourists and offer more benefits to natural life and local communities. Camping and hiking are among the best recreational activities whether you have decided to go with family or friends this summer. Camping is all about leaving the hustle and bustle of everyday life – including mod cons – behind. But some gadgets for camping can make your experience more enjoyable. Some camping gear is just for fun, while others are so practical you'll wonder how you ever camped without them.
1.  JetBoil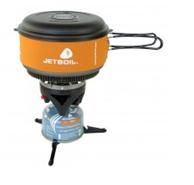 For easy, clean and eco-friendly cooking, JetBoil is the right choice. JetBoil the only way to cook! JetBoil facilitates to offer you the safest cooking.  Boasting many designs with this tipping the bar at £50 JetBoil is affordable given the market for camping stoves.JetBoil has rubber made handles, safe locking lids and rapid heating pans, JetBoil is a must have for the camper on the go. You can purchase here at Amazon.com.
2. Igloo Cool Fusion Icy Tunes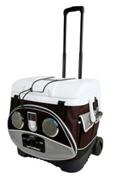 You will even feel pleasure after hearing the cool name of Igloo Cool fusion Icy Tunes. This fusion is basically a glorified cool bag and Igloo Cool Fusion is fully insulated for a 38 liter capacity which can fit up to 58 cans of coke. It weighs almost 6kg but given that it's on wheels and has a telescopic handle, it's no strenuous task. It benefits from exterior pockets, two built-in drinks holder and – the main attraction – built-in speakers and stereo.
The stereo and speakers of Igloo cool fusion Tunes have been powered by 4xAA batteriesand compatible with IPod and has FM/AM functions.This is the mother of all cool bags and averaging at £120 between models, its price tag is just a snip for the "cool" factor and get ready to discuss with your camping party members to bring this gadget along with you.
3. Ultimate Swiss Army Knife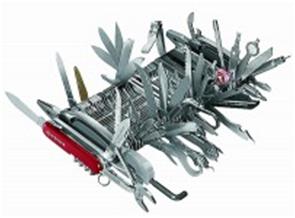 This is the ultimate of all camping gadgets.  This Swiss army knife gadget is heaviest than most of its contenders and weighing almost 3lbswill definitely require the big pockets. But due to more than 100 of useful features of this gadget, all the cons about this device should be neglected. The Ultimate Swiss Army Knife has 85 Gadgets in one. Wenger have pulled all the shots when manufacturing this giant, with more gizmo's than James Bond's secret lab.
Largely different from its tiny predecessor its tools include:
•    An all-purpose wrench.
•    Spot light.
•    Combination tool.
•    Swiveling compass.
•    Laser pointer.
•    Vast range of knifes and screw-drivers.
•    Chain rivet setter.
•    Magnifying glass.
The Wenger Giant Swiss Army Knife has a price tag of £550.00, so not the cheapest of gadgets, but with almost everything in one – maybe two hands and this multi-functional is important for every camping occasion. This gadget is available to purchase at Amazon.com
4. Foldaway-loo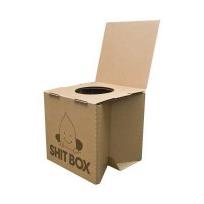 Your every camping occasion is incomplete without a politely put, Foldaway-. After all the Swiss Knife does not include a shovel and this camping necessary is must. The retail price of this Foldaway-loo is £16.99 andit'sreally affordable and foldable. As compared to other gadgets, this one doesn't need any explanation and you have to simply pop-up and bag, and job is done.  You can purchase it from Packyourbags.com.
5 . Mini-Kin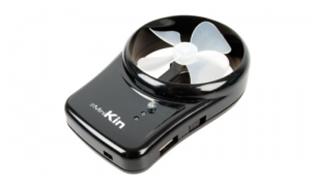 To take on your outdoor camping adventures, the mini kin is the ultimate rechargeable power gadget available there for you. The tiny wind power charger is perfect for attaching to your bike, boat, and arm band for running or to your tent. The Mini-Kin comes with attachments for most phones, MP3 players, phones and more. So whilst trekking the summit of a mountain or amidst a crowd of a festival, you need not to worry if your camera immediately falls ill of battery life, because mini kin will be available there to recharge it sharply and get your work done. Mini kin offering the following benefits to you;
•    Built in 1500mAh rechargeable lithium polymer battery
•    Supplied with a selection of phone connectors and a power adaptor
•    Accessories include: Stand, arm strap, bicycle clamp and window sucker
The market price of Mini-kin is only £27.99 and a definite must have gadget for your outdoor adventure. You can get this fancy camping gadget at Lazyboneuk.com.
6. Sea to Summit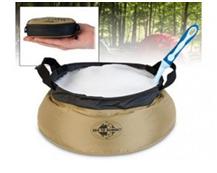 This is the one of the revolutionary camping item available for camping and outdoor adventures nowadays,specializing for the avid camper and outdoorsman. This perfect concept is the ideal camping gadget. The Sea to Summit Kitchen Sink can hold up to 20 liters of hot water, and can then be folded away into its small carry case. The gadget is available in both small and big size of 20 liters capacity at retail price of £16.99. This gadget is available for sale at Amazon.com
7. Sea to Summit Pocket Shower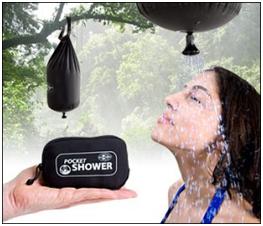 The Sea to Summit Pocket Shower is the perfect gadget for the camping season with its 10l capacity and heat absorbing bag which can offer you warm shower for maximum 7 minutes. Simply twist mechanism, 20ft cord, controlled head shower and flow adjustment. This gadget is available at a price around £16.99 and you can purchase it now from Foxter.com.
8. Lightcap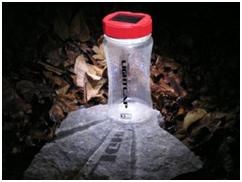 The innovative design Lightcap is one of the best gadgets available to make your outdoor adventures safe and enjoyable. The Lightcap as its known is a bestseller at most big camping stores. Running off solar power the Lightcap illuminates the water with its LED's.  The Lightcap 300 retails for £25 making an ideal drink cup and light and perfect solution for campers and adventurous guys.  You can buy this at Solight.com.
9. TentLED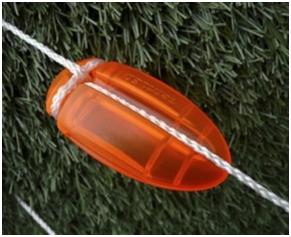 This safe camping gadget has been invented by aDutch designer, Van Burlo. The genius invention of Van Burlo iswhat every responsible camper needs to stop people tripped over their ropes – we're all guilty.However since the invention of the TentLED they are stocked by most good camping stores ranging in price from £3 – £7.Running off batteries the LED's adjusting themselves to the right ambient light, and shutting themselves off when in storage. TentLED's are a given must have for all the individuals who are preparing for camping soon.
10. Battery Controlled Marshmallow Roaster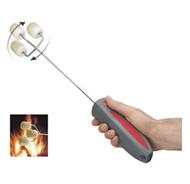 Last but no means least, the ultimate companion available forcamping is the Battery Controlled Marshmallow Roaster.  For £6 this rotatable roaster will gain you at least two new friends abolishing their sticks for an even marshmallow roast. This gadget is highly referred to party campers. These top ten gadgets will add to the comfort of camping and making your outdoor adventures more interesting this time.