By Dev on September 7th, 2012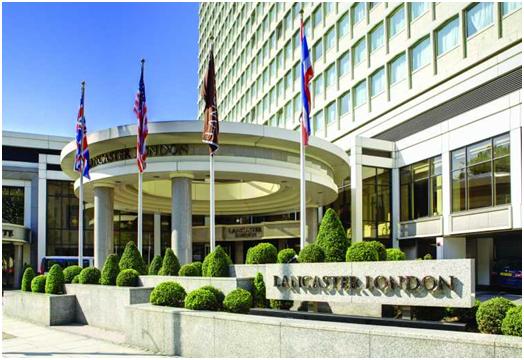 The deluxe for over 35 years the four-star deluxe Lancaster London has been a feature of the London skyline. Few city-center hotels can boast a better location with the 600 acres of Hyde Park and Kensington Gardens just across the road, while Marble Arch, Oxford Street and the West end and theatre districts are only minutes away Lancaster London hotel is situated in the heart of London, offering stunning, panoramic views of Hyde Park. The hotel boasts 416 luxurious guest rooms, and two restaurants including Island Grill and the award-winning Nipa Thai restaurant.
The Ideally located Lancaster London offers full experience of Hyde Park from boating on the Serpentine to admiring the beautiful Italian gardens for valued guests. It is just a few minutes' walk from the bustling shopping districts of Oxford and Bond Street, West End theatres and to attractions for tourists in London.
The Eco-friendly hotel to walk softly on the plant
Lancaster London hotel is one of the most environmentally friendly hotels in London and ensures its actions match its philosophy: "to walk softly on the planet". The hotel has taken a very deep research to move to energy saving practices, reducing landfill waste and increasing recycling. For example, the implementation of low energy light bulbs throughout the hotel, gauges on all boiler taps to cap water temperatures and the selection of only ethical and sustainable suppliers for food, glass, paper, etc. The £10 million refurbishment of the hotel's spectacular events spaces and commercial kitchens, currently underway, will see the implementation of the latest green technology, for example, the new dishwashers will have integral heat exchange pumps to reheat the water coming into the machines, thereby saving energy. Behind the scenes, there are weekly staff meetings to monitor recycling and wastage targets and brainstorm new energy saving measures. But still Lancaster London hotel is not satisfied with these green practices and aiming to move forward with best alternative for saving the environment.
There aren't many hotels that produce their own honey!
Superior City View
This room offers two single beds or one double bed. The rooms are bright and comfortably furnished, and feature complementary toiletries, air conditioning/heating, bathrobes, in-room safe, iron & ironing board, fully-stocked mini bar, satellite TV, high-speed internet access, direct-dial telephones, tea & coffee making facilities, and 24-hour room service.
Superior Park View
This room offers two single beds or one double bed. They all feature complementary toiletries, air conditioning/heating, bathrobes, in-room safe, iron & ironing board, fully-stocked mini bar, satellite TV, high-speed internet access, direct-dial telephones, tea & coffee making facilities, and 24-hour room service.
In 2009, the eco-friendly Lancaster London hotel made headlines when half a million honey bees checked in on the roof, making it the first central London hotel to install beehives. The hotel was roused into action over the sharp decline in honey bees. The hotel's "Bee Team" collects 40kg of honey annually, which is then served in the hotel's Island Grill. (Little pots are also given as gifts to Honeymooners!)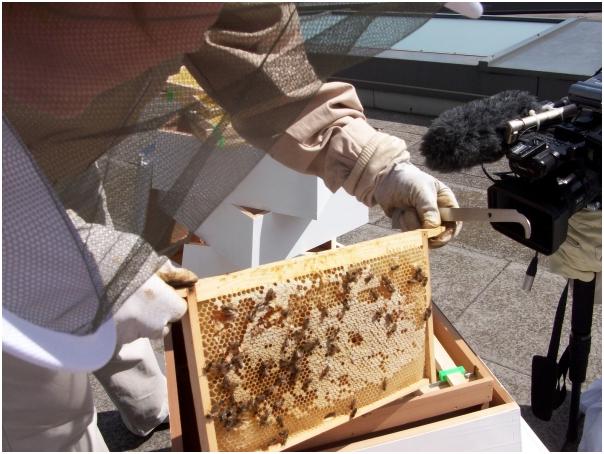 Image: Bee Hives at Lancaster London
This year, the Lancaster London is stepping up its crusade to save the honey bees by hosting the first ever, free to attend London Honey Show. On 10 October 2011, the Lancaster London will be inviting bee-keeping enthusiasts, commercial honey producers, exhibitors and the general public to an event to promote awareness about honey bees. The event will also encompass a prize-giving for a host of fun competitions such as "Best School/College Honey" "Best Packaging" and even "Best Cultured Honey", in order to try and stimulate a wave of interest in bee keeping. "Lancaster Buzz" cocktails, featuring the ingredient of the hour, will also be served at the event.
Recognition
The Lancaster London's herculean efforts to promote sustainability and awareness of green issues through leading by example have gained them wide recognition within the industry, along with top awards including: "Considerate Hotel of the Year", "Visit London Award for Sustainable Tourism" and "Silver Award from Green Tourism for London" to name a few. The awards are very much appreciated by all staff, who works hard to turn quirky ideas into reality and maintain the hotel's reputation as a leader in environmental responsibility.
View the edible table decoration in Lancaster table decoration
The Lancaster London's latest eco-project has been to introduce more sustainable table decorations in Island Grill. They have replaced the traditional freshly cut flowers with living pea shoots! Pea shoots embody sustainability and waste reduction as they can be harvested in just 2-4 weeks and, unlike the flowers, they will continue to grow and flourish before guests' eyes.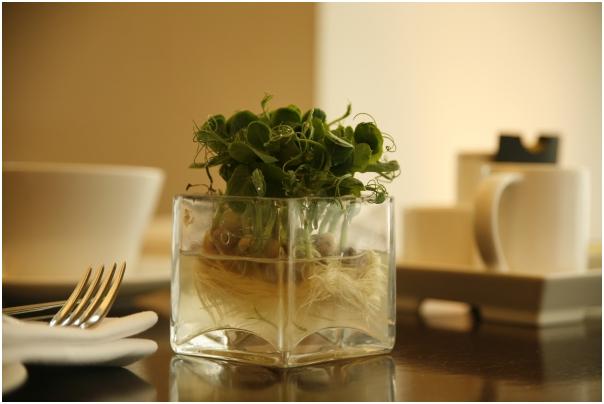 Image: Edible table decorations
Guests may also get a kick out of the novelty of nibbling on the decor!
Guests join in!
The Lancaster London prides itself on setting an example and hopes to inspire individual guests, businesses and competitors to follow suit. Guests who stay at the Lancaster London are actively encouraged to engage in eco-friendly principles through a variety of means, including an environmental page on their in room TV's making guests aware of small things that can make a big difference, such as re-using towels and keeping windows shut when using the air conditioning (or opening windows instead of using air-conditioning!) There is also a "Responsible Visitor Charter" on the hotel's website for guests with seven simple suggestions for guests to follow the hotel's lead, such as using greener means of travel, for example walking or cycling, and using the bike racks installed at the hotel. The hotel also offers guests the option of carbon offsetting.
Lancaster London Hotel Local community
The hotel is committed to working with local communities and is constantly involved in various projects. Most recently, the hotel raised £1,447.62 for Hospitality Action by adding a discretionary £1 to guests' bills. Before that, the hotel used a similar method to fundraise for the local homeless charity – Sleep smart. An ongoing campaign involves the hotel donating old TV's and disposable items from guests' rooms (curtains and pillows) to the Invisible Children's Charity where they can be recycled and used to raise money.