By Dan (EnviroGadget Writer) on November 24th, 2009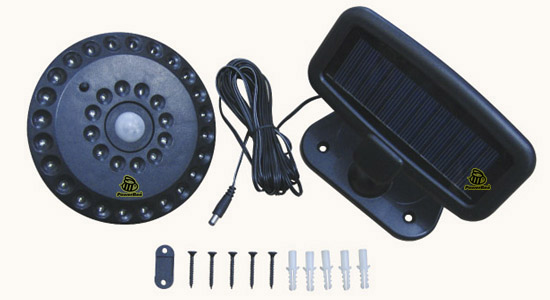 A common issue with solar-powered lights is that they often output a very weedy light beam. What I like about the PowerBee Solar Ray 36 is that the light output is equivalent to a 30 Watt mains-powered light bulb! Which is much higher than most other solar lighting. The Solar Ray 36 has, you guessed it, 36 high-brightness white LEDs, all powered from 3x AAA 750mAh rechargeable batteries.
The solar powered lighting is triggered by a motion sensitive Passive Infrared (PIR) unit, which is built into the light itself. Since the PIR motion detector is mounted as a bubble on the underside of the light, you effectively get 360 degrees of motion detection around the light. This means you don't need to mess about with pointing the motion detector in the right direction to maximise the chance of switching the light on.
The light can be used to illuminate pathways, sheds, garages, patios and more. The Solar Ray 36 comes with a 5 metre cable that allows the 0.6 watt multi-crystaline silicon solar panel to be positioned for optimal sunlight. Thankfully, the solar panel is powerful enough to charge the batteries even with the limited sunlight in the UK!
The Solar Ray kit is available from PowerBee for £21.95, or slightly cheaper from Amazon.co.uk for £21.11.