By Dan (EnviroGadget Writer) on May 26th, 2009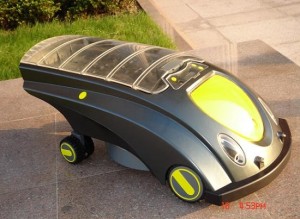 The RBZG001 Solar Lawnmower Robot is an intelligent garden mower that has been designed for both home and commercial use. The mower uses solar power to charge itself, and uses network technology to add a layer of intelligence about its mowing behaviour.
The mower features technology to climb slopes, automatically identifying its route, avoiding slopes and image recognition for obstacles. The mower can either collect all of the grass cuttings its internal container, or it can spread the cuttings as it cuts. The latter is better for the lawn, as the nutrients from the cut grass can leech back into the soil.
No pricing information is available, but I bet it won't be cheap! My guess is that it would cost around $5000.
Source: EcoFriend