By Anita (EnviroGadget Writer) on August 3rd, 2010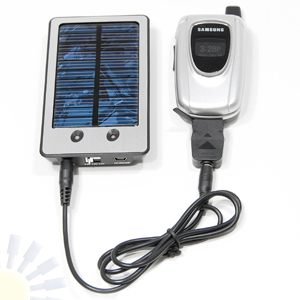 The iSol Plus is a solar powered charger designed to allow you to charge your portable electronic products from environmentally friendly electricity. The charger's size allows you to take the device anywhere with you, the solar panel ensures you can regain charge even when away from mains electricity.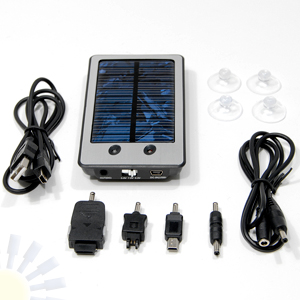 The iSol Plus by iSol can be used to charge a wide range of portable electronic devices. The charger is suitable to charge MP3/MP4 players, PDAs, iPhones, iPods, Blackberrys, mobile phones, and many other such devices. The charger has the ability to be set to three different DC settings to allow it greater flexibility, 5.5v, 7.5v and 9.5v. The charger is supplied with the adapters for both Samsung and Motorola phones, the device though should work with any portable electronic device that has a USB adapter.
The iSol Plus measures 11.43 cm x 6.35 cm x 1.52 cm(4.5 in x 2.5 in x 0.6 in) which allows it to be easily taken with you wherever you wish to go, to provide your devices with power whenever they require it. The charger has an internal rechargeable lithium battery that requires anything between 10 and 20 hours to charge through the solar panel, depending on the brightness of the sunlight available. The battery can also be charged through a USB port,  it takes 2-4 hours to charge the device via this method. The charger has both charging and discharging indicators to allow you to easily see when the charger is working. The iSol Plus helps to make your portable electronics truly portable. It allows you to be able to charge you devices anywhere, all you require is sunlight.
Source: World Of Green