By Anita (EnviroGadget Writer) on April 11th, 2011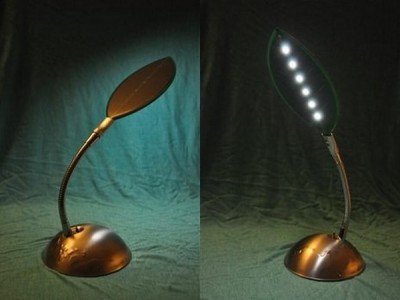 The Lumileaf Solar LED Lamp is a beautiful lighting feature for any home. The lights shape has been inspired by nature, the solar panel and lighting area has an aesthetically pleasing leaf shape. The solar light can be used both indoors or outdoors to provide you with lamplight wherever you require it.
The Lumileaf Solar LED Lamp has been created by Sonelis to provide a lamp light that can be used both indoors and outdoors effectively. The light has been designed to have an appealing sleek look that has natural beauty from its leaf-like shape yet has the elegance and modernity from the use of  brushed aluminium. The LEDs of the lamp have been embedded directly into the solar panel, giving the lamp a very unique and space efficient look.
The Lumileaf Solar LED Lamp charges its built-in 1800mAh NiMH rechargeable battery from the leaf shaped solar panel. This panel must be positioned to face towards the sun during daylight hours to allow it to charge through to day so that it can provide you with illumination at night. The battery powers 6 bright energy efficient LEDs, plenty to provide adequate lighting for a variety of situations.
This solar lamp, due to its construction from brushed aluminium, can be used both indoors and outdoors. The lamp is water resistant, allowing it to cope with light rain, or the occasional splash of water. This can be very useful for those with children who could easily knock a drink over onto it, or splash it with a water pistol, though some care should still be taken as it would not cope well with total submersion.
The Lumileaf lamp is a useful solar powered lamp to have around as you can make use of it indoors as an eco-friendly desk lamp while being able to move it outdoors when you require outdoor table lighting for a BBQ or similar event. The lamps elegant design and ability to be used in a variety of ways makes it an attractive addition to any household.
Source: Sonelis
1 Comment
Lamps and Lights, Outdoor Eco Gadgets, Solar Powered Gadgets
desk lamp, garden lamp, LED light, outdoor lamp, outdoor lights, solar lamp, solar lighting, solar panel, Solar Powered Gadgets, solar powered garden lamp, solar powered lamp, solar powered LED, solar powered LED lamp, solar powered LED outdoor lamp