By Anita (EnviroGadget Writer) on March 30th, 2010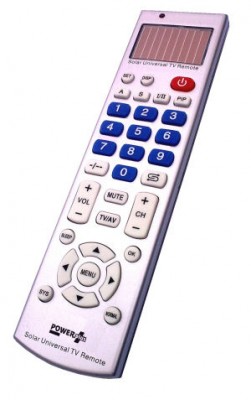 The Leopard by Powerplus is a solar powered universal TV remote control. The Leopard can charge from direct sunlight and ambient light from artificial sources.  By simply having the remote on the arm of a chair, a sofa or on a coffee table, the batteries will charge providing you with power to control your TV without worry of running out of batteries.
The Leopard has 34 different function buttons to help ensure it fits all your TV needs, and is easy to program to your particular TV model. The solar panel charges an internal lithium-ion battery and the electrical power is stored there until you require it. Though it may charge faster if left in direct sunlight like that found on a brightly lit windowsill, the remote will charge from artificial light sources, so by simply having the solar panel facing up in a room which is lit the panel will work and charge the internal battery.
The Leopard measures 18.6cm x 4.9cm x 1.7cm (7.3in x 1.9in x 0.7in) and weighs around 76g, which is comparable to standard battery powered remotes.
The Leopard solar remote control is available for just £9.99 plus delivery.