By Anita (EnviroGadget Writer) on December 14th, 2010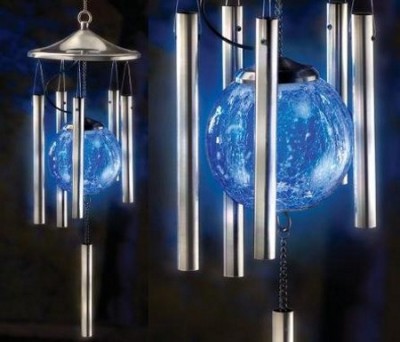 The Solar Powered Light Show Wind Chime is a beautiful garden ornament that will fill your garden with both light and sound. The light within the central orb changes colour, projecting star-like patterns through the crackled effect glass while the orb itself acts as a striker for the chimes.
The Solar Powered Light Show Wind Chime displays the beauty of both light and sound in a garden while making use of the eco-friendly energy sources of sunlight and wind. The solar panels incorporated into the top of the wind chime charge throughout the daylight hours to provide enough power to illuminate the central orb after dusk. Some thought must be given to the placement of the chimes in an outdoor area to ensure that the solar panel can receive sufficient light during the day while situated in a location where the chimes can catch the breeze.
Housed within the central orb is an LED which changes it colour every 3 seconds through a range of 7 different colours. The light the LED produces is refracted through the crackled textured glass of the orb, casting shapes and patterns on surfaces surrounding the wind chime. The 5 chimes are each a different length and  have been created from aluminium. The orb acts as a striker for the chimes causing them to produce a range of soft tones as the wind moves. The wind chime measures 55.9 cm x 20.3 cm (22 in x 8 in).
The Solar Powered Light Show Wind Chime is a wonderful way to bring light and sound into any garden, without any concerns regarding wiring or long term running costs. The gadget is yours for only $39.95.