By Anita (EnviroGadget Writer) on November 29th, 2010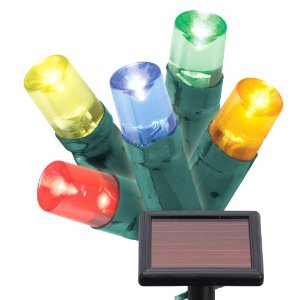 These Solar Powered Multiple Colour LED String Lights are a great way to add a little coloured decoration to any outdoor area. These lights can be used to produce beautiful lighting for Christmas without causing any worries over electricity bills.
The Solar Powered Multiple Colour LED String Lights have been made by Philips to be used to decorate an outdoor area, perfect for use to decorate items for the holiday season. The light string uses 24 LEDs in red, orange, yellow, green and blue to produce a multiple coloured lighting effect. The LEDs are attached to a green coloured cable which is 3.45 m (11.33 ft) in length.  This length includes cable from the solar panel to the LEDs so the actual length of LED cable is less. The size is perfect for lighting small areas or plants.
Due to the use of a solar panel to provide the power to light the LEDs, the lights can be fitted without causing any wiring hassles. Some thought must be given in positioning the solar panel to allow it to fully charge the battery during any daylight hours. If you intend to use the light string during the holiday season when daylight is at a minimum this is doubly important to ensure your lights will illuminate for long enough once dusk falls. The lights turn on automatically when darkness is sensed by the solar panel unit so it is important that this is not in shade at any time of the day.
The Solar Powered Multiple Colour LED Light String allows you to illuminate your outdoor areas without causing any wiring hassles or any long term running costs, leaving you free to enjoy your lighting. The lights allow you to light up even small areas without having long lengths of cable running over your outdoor areas to supply mains electricity. This can allow you to produce lighting effects that are safer for you and your family as well as the environment.
The Solar Powered Multiple Colour LED String Lights are perfect for Christmas at just $12.74. Get them while you can!
0 Comments
Lamps and Lights, Outdoor Eco Gadgets, Solar Powered Gadgets
garden lighting, garden lights, LED light string, LED lights, multiple coloured LED lights, solar lighting, solar panel, Solar Powered Gadgets, solar powered garden lights, solar powered led garden lights, solar powered LED light string, solar powered lighting, solar powered multiple coloured LEDs