By Anita (EnviroGadget Writer) on March 31st, 2010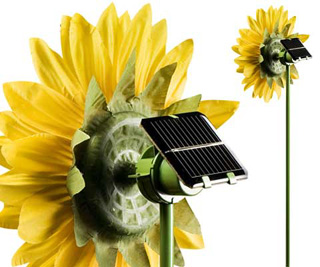 This solar powered Spinning Sunflower is meant for use as an amusing addition to any garden or conservatory.
The solar powered Spinning Sunflower does exactly what it states, when sunlight hits the solar panel (located on the back of the sunflower head) the electrical energy provided is used to cause the sunflower to spin. The Spinning Sunflower should then provide amusement in your garden for all those who find such a thing entertaining (for example children or the occasional puzzled bird).
The Spinning Sunflower measures 55 cm high (21.65 in), and the flower head has a diameter of 22 cm (8.66 in). The Sunflower is fully weatherproof to help it last outdoors but can also be used indoors in suitably lit areas such as a conservatory.
The Spinning Sunflower costs just £24.99 plus delivery, and is sure to keep the kids amused for at least a little while!