By Dan (EnviroGadget Writer) on August 29th, 2008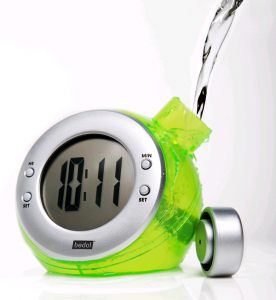 I recently reviewed a water powered desktop calculator, and now there's a Water Powered Clock. Using a combination of water and salt, the clock electrodes generate a current sufficient to power the clock for quite a while. This eco gadget is bright and colourful, and it's bound to attract attention if you've got it on your office desk!
Source: Bedol via Coolest-Gadgets. This article is brought to you with great cashback watches and clock deals.