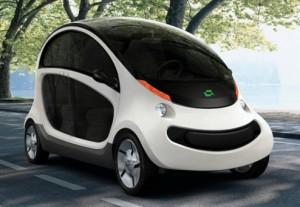 Chrysler has announced a new green transportation vehicle that is eco friendly, being emission free, using electric power rather than petroleum derivatives. The car features iPod and iPhone integration, where the latter doubles as a mobile phone hands free feature too. The Peapod is small, yet available in 2-seater, 4-seater and 6-seater models.
The PeaPod is scheduled for production in 2009 and is intended as a "run-around" or neighbourhood vehicle. Chrysler have announced their intention to market an electric commercial truck and a larger city electric vehicle too. The PeaPod cars have a top speed of 25 miles per hour and a range of up to 30 miles per charge. However, the charging time is roughly 6 to 8 hours via an 110V outlet.
Sounds like a good idea, so that wind and solar power can be exploited as a source of energy for vehicles. However, they look ridiculous, have poor drive v.s. charge times, and look considerably like those very frustrating elderly mobility buggies that just get in the way of both pedestrians and cars.