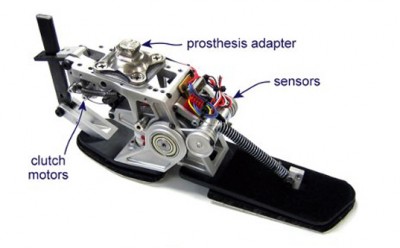 For those with an prosthetic foot just normal walking can take a lot more energy than normal. This impedes normal movement and causes the person to tire out more quickly. This Energy Recycling Artificial Foot proposes to help reduce this by taking expended energy formed by walking and using it to help create a more normal ankle movement.
The Energy Recycling Prosthetic Foot hopes to help mimic the ankle's normal movement of push off. It takes in the expended energy of the heel contact with the ground. This kinetic energy of impact is stored in a tiny battery. The battery then powers the foot to return the energy during the foot's push off, helping to alleviate the hindrance an artificial foot causes. The device uses less than a watt of electricity to aid foot push off, which allows the battery to be very small.
It is thought that using an artificial foot increases normal energy expenditure by around 23%. By using this new design it is hoped to minimize this figure to around 14%. By releasing the contained kinetic energy at the moment of push off the team that designed this at the University of Michigan believe it is the first device to release the energy in the right way to help aid foot push off without requiring an external energy source.
This prosthetic foot is currently being tested at the Seattle Veterans Affairs Medical Center.
Source: Inhabitat