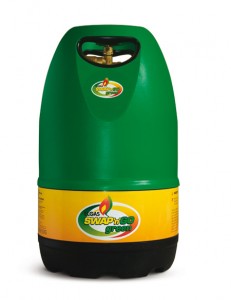 If you use natural gas or low power gas for camping for BBQ stoves, then these funky low-pressure gas (LPG) cylinders are a simple way to use natural gas without the hassle of using normal cylinders. Rather than having to wait to get your cylinder refilled or checked, you literally just grab a new bottle and hand your old one back.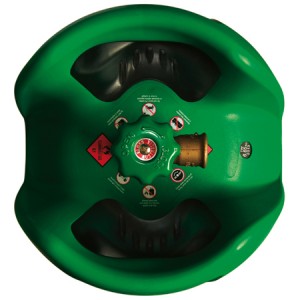 The newest addition is the Swap-n-Go Green range which is 100% carbon neutral LPG, since the company purchases carbon credits from the Australian Government equivalent to the emissions associated with production, transportation and use of this LPG. The Australian Government then uses revenue from those credits to fund carbon reduction programmes.
The cylinders are also made using recyclable materials with a very light construction. The materials include brass, fibreglass, steel and recyclable plastic for the outer shell. Unfortunately the cylinders are only available in Australia at the moment, but its a great idea. I get the impression that gas cylinder technology hasn't really been updated in the last 20 years!
Source: iGreenSpot and Swap'n'Go.