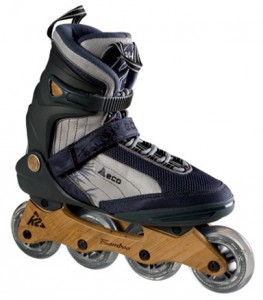 So we know that cycling is good for you and great for the environment, but how about skating? Typically overlooked, but skating can be just as good for you when comutting and getting around. Inline Skating has just got more eco-friendly with the new K2 Eco Skates from K2 Sports. Using sustainable bamboo and recycled Polyethylene terephthalate (PET) plastic, the K2 Eco Skates set a great example of what can be achieved using green materials.

The frames are made from sustainable and biodegradable bamboo, which has been shown to be almost as strong (if not stronger) than many types of steel. The liners and laces are made from 100% recycled PET, and the webbing is made from 50% recycled PET. The packaging is 100% recycled too!
The K2 Maia Eco Skate is designed for the ladies in sizes 4-11, the K2 Etu Eco Skate is designed for the gents in sizes 6-14. The skates are available for around $189.95 a pair.
Source: 1 Green Product