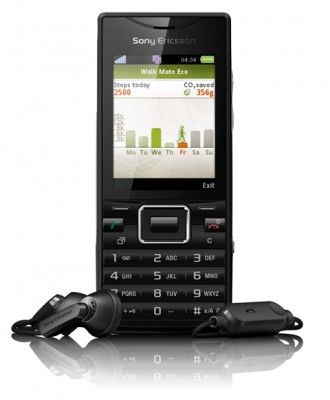 I've had the good fortune to review a new eco-friendly mobile phone by Sony Ericsson. The Sony Ericsson Elm looks like just any other full-featured mobile phone, but has a whole raft of eco-friendly features. Features include use of recycled plastics, electronic manual on the phone, no hazardous chemicals, minimised packaging and water-based paints.
In terms of appearance, the Elm is a compact and attractive phone with a black plastic front, and a metallic rear. The large screen is bright and easy to read. I'd suggest you want a screen protector for the screen, as I get the impression that it might scratch easily. The buttons on the phone are perfect for us chaps with large fingers. The buttons do make a subtle click when pressed (tactile feedback is what I miss with the iPhone). Therefore I was typing out a text message really quickly.
I've never owned a Sony Ericsson phone, but I found the menus to be very intuitive and I was whizzing around the phone within a few seconds (without reading the instructions!). It became quite clear that to fully appreciate the phone, that you will need a contact/PAYG service where you have data. Many of the applications need internet access, such as Facebook, Twitter, Google Maps, etc.
The digital camera is pretty impressive. At a resolution of 5 megapixels, it's pretty reasonable for a phone camera. However, I found the sharpness of the image and auto focus to be exceptionally excellent. Autofocus is one of those things with phone cameras that are generally a little rough around the edges, but this phone solves that problem.
In terms of green features, it's good to see a phone avoiding hazardous materials like lead and mercury. What I did particularly like is the Walk Mate Eco application, which is essentially a pedometer. So when you go for a walk, the application can tell you how far you've walked. The application also tells you how much carbon dioxide you've saved by walking. If you're the kind of person who likes to beat high scores in a game, then the pedometer application will push you to walk more and more!
So all in, the Sony Ericsson Elm is a decent looking and practical mobile phone. I think there's a lot more to come in terms of eco-friendly features in the future, but I think that the Elm is a big step in the right direction.
Source: Sony Ericsson
[ecu size="small"]53443[/ecu]