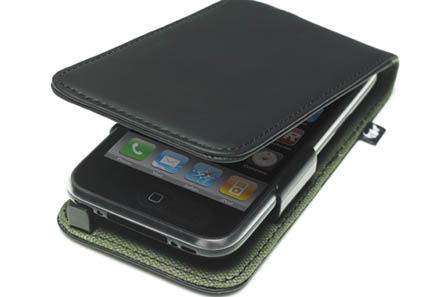 Proporta were kind enough to send me a Recycled Leather Eco iPhone Case, designed for the latest iPhone 3GS model. The case uses completely sustainable materials, and includes a natural hessian lining in addition to the recycled leather for the outer casing.
The iPhone clips into the case into the two plastic arms on either side of the case. I found that these were sufficient to hold the phone in place. The added lip at the bottom of the case is just to stop the iPhone from slipping out at the bottom.
Interestingly, part of the case is a small panel of laser-cut bamboo, which slides into the front pocket of the case to provide your case with a very study screen protector. The bamboo will help protect the screen from impact when in your bag or pocket.
Once the bamboo panel has been inserted into the pocket, the case just flaps down. In the photo, you'll see that it hovers over the phone a little. I imagine with a little wear, the flap of the case will fit snugly over the iPhone anyway.
There's nothing to hold the flap of the case down, which is ideal for someone like me where I don't want to faff about with taking the phone out of its case when I want to use it. However, I did find that the flap was a little odd when making a call, therefore it made more sense to take the phone out of the case when making a call.
The Recycled Leather Eco iPhone Case is available for £29.95 directly from Proporta, plus a small delivery fee. It's a very nice case, and definitely feels well-made, especially given it's eco-credentials. However, for nearly £30, I feel that the case is a little expensive. I'd expect the price to be £15 or so for something like this.
Thanks to Proporta for sending me the sample!