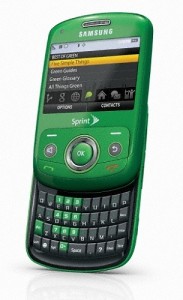 Sprint and Samsung have launched a new eco-friendly mobile phone that's made from eco-friendly bio-plastic materials, of which 80% are recyclable. The Reclaim is a full-featured mobile phone costing less than $50 with a two year contract. The bio-plastic material makes up 40% of the Reclaim's casing, and is made from corn.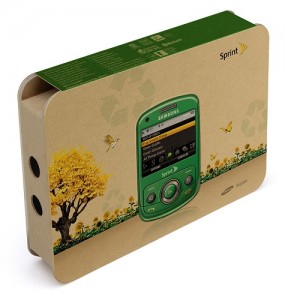 The phone features GPS-enabled directions, a 2 mega pixel camera with 3x digital zoom, expandable storage up to 32GB using an SD card, integrated web browser and a slide out QWERTY keyboard. The phones are available in two colours, namely Earth Green and Ocean Blue.
The packaging is made from recyclable materials with soy-based inks for the printing to save on harsh chemicals. The manual is available online to save paper and CDs and the charger is an Energy Star approved energy efficient design. Sprint is also offering eco-friendly accessories, including the SOLIO Mono solar-powered charger and two new cell phone carrying cases made from 100 percent recycled plastic water bottles.
Source: Eco-Friend