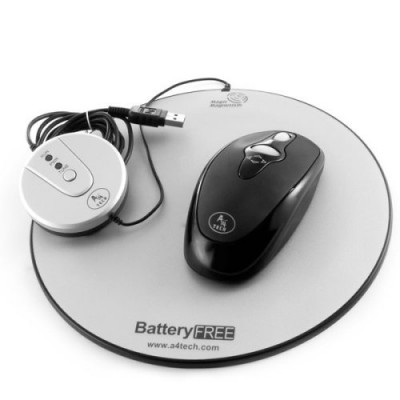 This Battery-Free USB Wireless Optical Mouse allows you to stop using even rechargeable batteries to operate your computer's mouse.
The Battery-Free USB Wireless Optical Mouse is a plug and play device, meaning its easy for anyone to install. The mouse itself is wireless and is optical providing you with a sensitive response to your movements. It draws its power through the specially designed mouse mat. It is this mat which plugs into your computer's USB port and draws power through that. The mouse has two buttons and two scroll buttons to help you use your computer smoothly and efficiently.
The mouse itself measures 12 cm x 5.4 cm x 3.7 cm (4.7in x 2.5 in x 1.45 in) which is a pretty standard size. The mouse mat is 22.5cm in diameter (8.86 in). Due to the fact the mouse draws power through the mouse mat though the mouse is wireless it does not offer you the same freedom other wireless mice do, as you are tied down to working on that mat and it has a wire connecting it to the computer. Also it is probable that the mousemat is taking charge from the computer constantly and so is using electricity needlessly for a lot of the time. For these reasons some may feel this product is not eco-friendly, but some may feel it is worth this to cut out the use of batteries and the problems of disposing even rechargeable ones after they are finally worn out.
The USB Wireless Optical Mouse is available for $24.79, and comes with free shipping if you spend just $0.21 with Amazon.com.