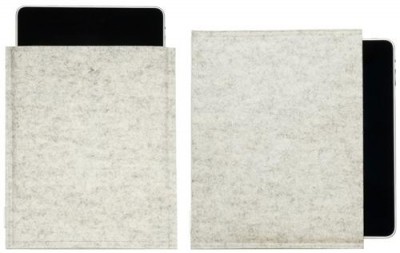 The Sleeve by Nedrelow provides woolen protection for your electronic Apple goods. With designs for i Pads and Mac Books, the Sleeve allows you to cover your electronics in style, with no unnecessary logos or significant extra weight.
The Sleeve has been designed with function as its main purpose. The simple design has no additional parts, no unneeded extras to brand the sleeve, it is simply a sung fitting protection sleeve for your iPad or Mac Book. The Sleeve is made from 100% German wool, this is a natural and sustainable material that provides protection while being light enough to not cause any additional burden
The Sleeve is currently available in 3 colors, charcoal, oatmeal, and safety orange. There are two designs for the iPad to provide you with the option of how you wish to have access to your device, you can purchase either a top opening Sleeve or a side opening version, to ensure you have the right sleeve for your requirements.
The Sleeve offers protection for your electronics, encasing them in a snug-fitting soft but dense 3mm thickness of wool. The simplicity of the design provides an elegant look that does not impede function. By using wool as a construction material, the environmental impact of the Sleeve is minimized.
The Nedrelow sleeves are available for just $34 from Amazon.