Nantucket Oils had been through a long and successful journey since it was first opened in 1983 by John Harding in Boston and Martha's Vineyard. It has since expanded nationwide and is a premier manufactures of 100% natural perfumeswithout any harmful chemicals, synthetic products and alcohol.  They create their special formulations using some of the choicest of natural ingredients such as exotic herbs, sandalwood, citrus scents, lavender, jasmine, rosemary and many more. They are all blended toperfection to give you a unique scent that is sure to leave you captivated.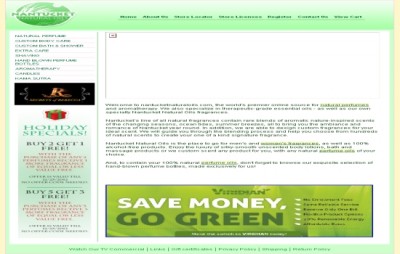 One advantage of suing natural oils for perfumes without adding alcohol, solvents and dispersants is that the perfume retains its potency for a long time and just smells as fresh as it was before. You can be assured of a clean and completely organic range of scents, body care, bath and shower products and many more. They have a special range of natural massage gels, lotions, moisturizers and also have a wide collection of essential aromatherapyoils,blends as well as popular blends based on your sun-sign.
You can also check out their range of aromatherapy candles which gently diffuse the fragrance into your room. Also listed are perfumed candles in flavors of cedar, cinnamon, clove, lavender and many more to suit your mood and ambience. The site also offers designer fragrances by many of the world's leading brands. Specially crafted hand blown perfume bottles with hand-ground stoppers and colored glass and are also sold as a part of a signature edition.
The store also offers gift certificates for individual, promotional and corporate needs. You can buy their products online at their website accessed at www.nantucketnaturaloils.com .