We love eco gadgets for kids here at EnviroGadget, probably because we're kids at heart!
Out of all the eco-friendly gadgets you can buy, which ones are suitable for children? Actually, there are lots of different eco gadgets that are perfect for kids. We've compiled the best solar-powered kits for kids, which all have the added bonus of teaching children about solar energy!
1. H2Go Radio Controlled Hydrogen-Powered Car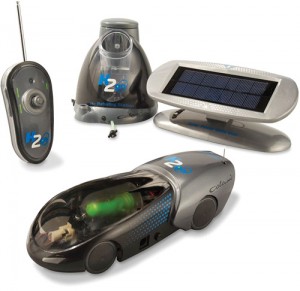 The H2Go Radio Controlled Hydrogen Powered Car is one of the most advanced educational toys you can buy. The solar panel is used to split water into hydrogen and oxygen gas, using the process of electrolysis.
Once topped up, there's enough fuel in the fueling station to power the car for an hour, and it only takes about 4 minutes to fill the fueling station too. The hydrogen gas is used to top up the fuel cell in the car, which can travel at up to 6 miles an hour (which is equivalent to around 80mph in a real car!).
2. Solar-Powered 6-in-1 Robot Kit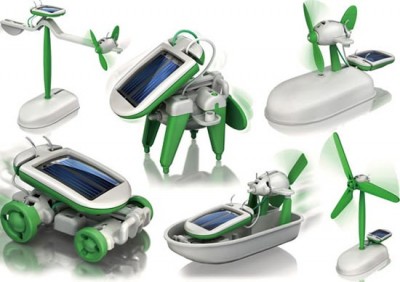 The 6-in-1 Solar Powered Robot Kit is a solar-panel kit where you can make a dog, a boat, a moving plane, a car, a windmill and a desktop plane! Using just 25 parts, without the need for screws, you can easily make each of these designs using just solar energy for power.
3. Solar-Powered Dinosaur Kit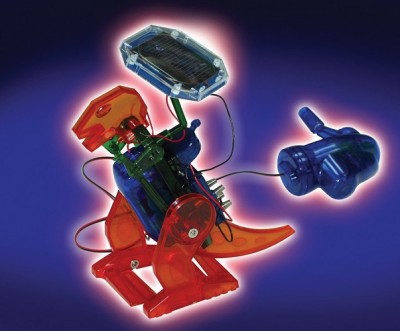 The Solar and Windup Powered Dinosaur Kit features a walking dinosaur that's powered by a solar panel and a wind-up crank (i.e. a dynamo). Children can learn about the relative efficiency of each power source, especially as they'll find that the hand crank is much quicker at charging the internal rechargeable battery.
4. Solar-Powered Bamboo Doll House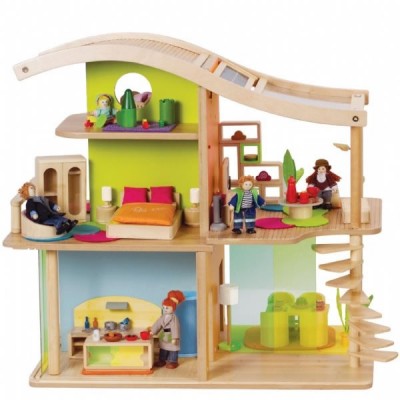 Here's a solar toy aimed a little more towards girls, namely a Solar-Powered Bamboo Doll House. The large solar panel on the roof collects enough energy to light up 5 LEDs. The whole doll house is made from sustainable fast-growing bamboo, including the internals of the doll house such as the furniture. The bamboo has been treated with a light water-based stain and then polished with natural beeswax.
The dolls house is designed for children aged 3 years or older and is priced at $499.
5. Solar-Powered Speed Boat Eco Toy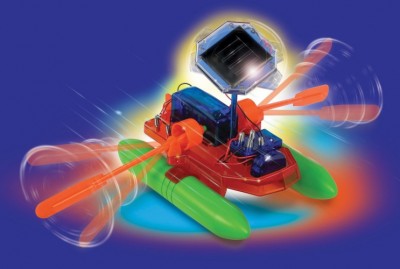 The Solar-Powered Speed Boat Kit will help kids to learn about solar energy and motors. The boat kit includes all the parts needed to construct a boat that powers itself along water using two large paddles. This is a great kit for kids who love water too, as they can play with it on a small pond or in the bathtub.
6. The Fuel Cell Car and Experiment Kit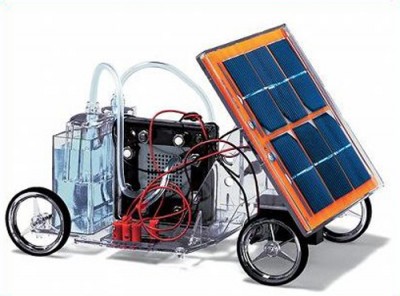 The Fuel Cell Car and Experiment Kit is a pretty advanced experiment kit aimed at childen aged 12 or older. The kit features a total of 30 experiments that gives children practical experience with fuel cells and electrolysis.
Part of the kit includes a solar panel, which is used to break down water into hydrogen and oxygen in electrolysis. The Fuel Cell Car and Experiment Kit is available for $149.95 plus delivery. The fuel cell kit was also recently awarded Winner of the Silver Award from the Parents Choice Foundation, so it comes highly rated.
7. Solar-Powered Wooden Model Biplane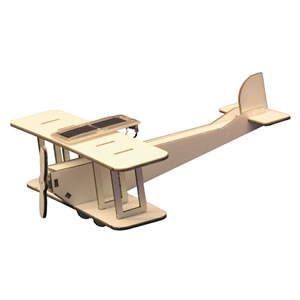 The Solar-Powered Wooden Biplane Model is a model plane kit that uses laser-cut plywood. No glue is needed to construct the kit, as all the wooden pieces just slot into each other. The solar panels are designed to turn the propeller. This plane is designed to be a model and is not designed to fly.
8. The Renewable Energy Experiment Kit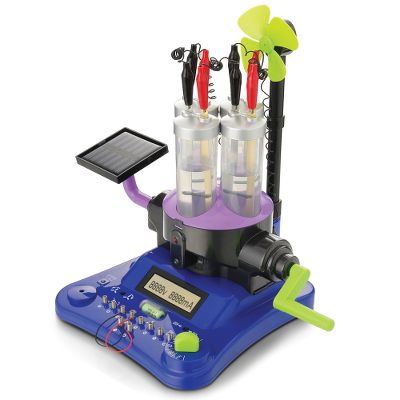 The Renewable Energy Experiment Kit is an eco toy that allows children to experiment with different types of renewable energy. The kit includes a wind turbine, a solar cell, electrolytic cells and a hand-powered dynamo which can all be used to generate energy. The generated electricity is stored in a built-in rechargeable battery, and the effectiveness of each energy source can be measured using the built-in voltmeter.
The battery can be used to power a motor, some LEDs or a buzzer using the alligator clips in the kit. The Renewable Energy Experiment Kit is available for $49.95 from Hammacher Schlemmer.
9. Solar-Powered Eco House Electronics Kit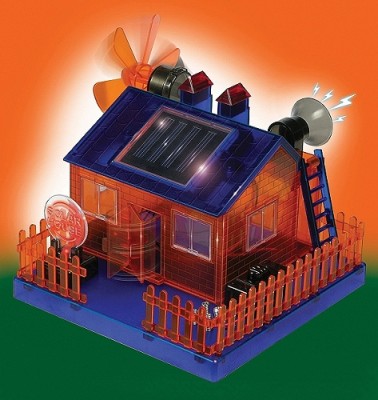 The Solar-Powered Eco House Electronics Kit uses a solar panel to power a range of devices, namely an LED display sign, door sounds and a windmill. If there's insufficient light available, you can also use 2xAA batteries to power the devices rather than use the solar panel.