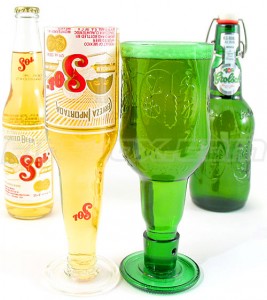 Drinks glasses are pretty conventional, with the odd freaky design here and there. However, these Beer Bottle Goblets have been made from recycled Grolsch, Sol, and Corona bottles.
The glass itself is made from the neck and main part of the bottle. The bottom of the glass is made from the bottom of the bottle. Have no fear, there are no sharp edges with these glasses (unless you break them!), as they have been polished to create a nice smooth edge.
For any fan of beers, these glasses would make a great gift. There is almost no waste in the manufacture of these glasses from their previous life as bottles. Rather than just recycling the bottles for yet more bottles, you get a funky vessel instead! The Beer Bottle Goblets cost £12.95 per pair of Grolsch, Sol, or Corona-style glasses.