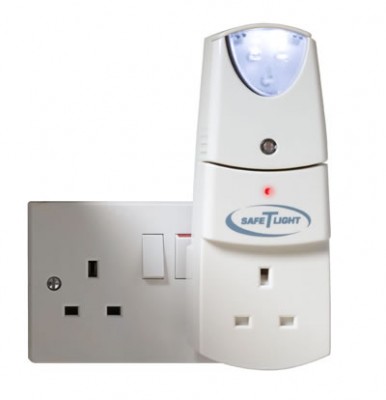 The Safe T Light is a eco-friendly night light that plugs into a UK 3-Pin socket with a pass-thru socket so that you can still use that plug socket. The light can also be removed and used as a torch too. The light contains light sensors, which will switch on the light when it gets dark.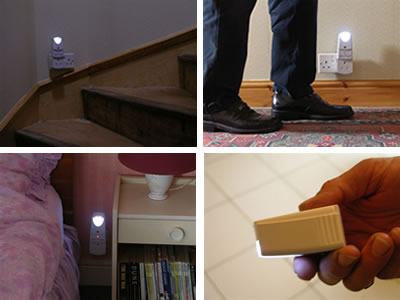 The Safe T Light is ideal as a nightlight, for children's bedrooms and for lighting the hallway at the top of the stairs. As soon as it gets dark, the light will switch itself on, switching itself off again when it gets light again. If the power is cut, the light will also immediately illuminate for emergencies.
As mentioned, the light portion of Safe T Light can be removed from the main charging plug section so that it can be used as a torch. When it is removed, the light's beam becomes more focused to aid its use as a torch. The torch feature makes it very useful during power cuts, as there would be no searching around for a torch in the dark because the light would be already on, leading you to where it is.
Because the Safe T Light is designed to be placed into a plug socket, the light will be positioned at a floor level. This is ideal for helping you to see obstacles in furniture-laden parts of your house. As the lights are often positioned at a low level they are also a great benefit in the instance of a fire, as they will light the way below the smoke. Even if power was lost during a fire, this light can be relied upon to light up the exits. The Safe T Light uses roughly 3 watts of electricity, this charges its internal battery which allows it to work for up to 10 hours during a power cut. The light uses so little energy due to using 3 energy-efficient LEDs as the light source (and only using two of them during 'normal' nightlight function).
The Safe T Light is an energy-efficient light with a great blend of practical uses, for both emergencies and every day use. The Safe T Light is available for £34.95 and comes in a pack of two.