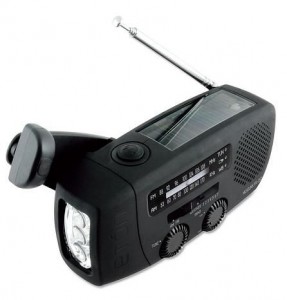 If you're stuck in the middle of nowhere, then you probably don't have access to a power outlet. However, if you can't live without a radio or flashlight, then the Self-Powered Emergency Radio with Flashlight might appeal to you. The radio has the standard built-in FM and AM bands, but it can also receive the NOAA weather band. When it comes to charging the radio up, you have two choices, namely solar power or hand power.
The hand-crank and solar panel charge the internal rechargeable Ni-MH battery. What's also cool about this gadget is that you can charge up your mobile phones too. The radio has it has a special socket to use for charging up a phone. If you also need a torch, the built-in torch will come in really useful too! This radio is probably aimed at emergency kits, as it also allows you to tune into FCC and EAS public alert systems.
The radio is available for just $24.99 plus shipping.