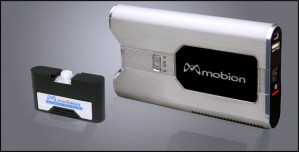 MTI Micro has announced the release of its portable fuel cell charger for gadgets like MP3 players and digital cameras. The new aspect of this charger is that the fuel cell is a removable cartridge, which can be re-filled by an authorised refilling centre. Each cartridge gives the user 25W hours of power, typically translating to 25 hours of charge time.
The 25Wh translates to fully charging a mobile phone over 10 times, play 10,000 songs, or watch over 100 hours of video on the popular MP3 and media players (erm, iPod probably). If used to charge up a digital camera, the user can take up to 6000 pictures on a high end professional digital camera, based on a single charge of the fuel cell.
Since the cartridge is removable, you can change to a new fuel cell when its convenient to you, rather than taking the whole powerpack to be refueled. MTI Micro consider the idea to be unique, but I saw hydrogen fuel cells with user-removable cartridges on a production model (v.s. a prototype) about 2 years ago!
The core of the charger is a proprietary third generation Mobion Chip, which uses advanced technology and methanol fuel to allow the charger to be used in a range of operating temperatures and humidity levels. Rather oddly, it doesn't have a standard USB socket, which means you'll need a special adaptor to get it to work with your USB devices. Lots of advanced stuff, none of the consumability stuff though!
Source: GoodCleanTech