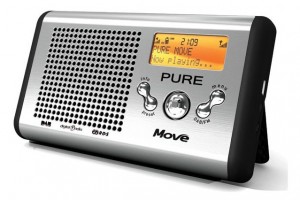 If you're a fan of digital radio, the Move Eco Plus DAB Digital Radio is an attractive and eco-friendly gadget to enjoy your music on the go. Like other eco-friendly DAB digital radios, this radio has been approved by the Energy Saving Trust thanks to it's exceptionally low power consumption. As a result, the radio will last for up to 40 hours on a single charge of the batteries!
To put some numbers on it, in standby the radio uses just 0.73W (where the industry average is 2.64W), and in operation the radio uses just 0.95W (where the industry average is 5.49W). The radio uses an internal 4200 mAh rechargeable battery, which is charged via a mains-based power supply. The radio receives DAB Band III as well as standard analogue FM radio. The Move Eco Plus radio is capable of decoding all DAB transmission modes 1-4 up to and including 192 kbps.
The radio has a built-in speaker which is claimed to have a surprising clarity and volume level. Additionally, you can also plug in your iPod or iPhone to play music on the radio's speaker. The orange backlit LCD display with 16 x 2 characters shows the station name and the signal strength, and the backlight can be switched off to save energy.
The radio measures 150 mm wide x 85 mm tall x 27 mm deep, and weighs only 280g. The radio is available for just under £80.