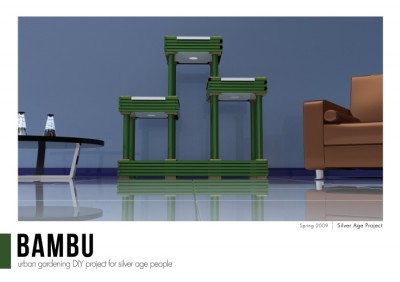 Bambu is a concept for an eco-gardening system designed to assist the older generations into urban gardening. The system allows the planter levels to be raised up to heights that allow users to care for the plants with a minimum of bending, while allowing them to become more active.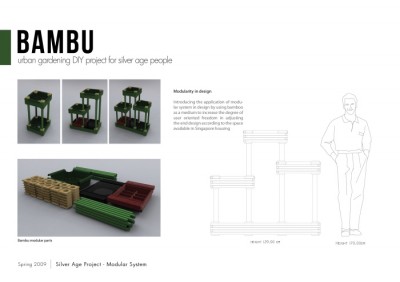 The Bambu concept has been conceived by designer Steven Kurniawan to help provide purposeful activity for the older generations. Using materials such as bamboo to construct the planter system, Bambu allows users to grow crops in the comfort of their own home, leaving them free to reap the benefits of fresh produce and clearer air.
The positive effects of plants in a room are well known, for example they can help to produce oxygen, provide a room with fragrance, or just simply provide beautiful life to a living area. The Bambu system has been designed to allow freedom in construction, the part are easily assembled and can be constructed in a number of ways to allow you to achieve the planter style you want. To minimize any negative impact on the environment from the production of the planter materials such as bamboo have been used in the construction. Bamboo is a sustainable material that is quick to grow, making it a great material to use for items such as this.
The Bambu concept would allow the elderly, or those with lessened mobility to be able to grow plants with ease in their own home. This activity can have a beneficial effect on the users and the system can help produce anything from beautiful flowers to crops of fresh vegetables. The system helps to encourage people to grow more plants even in limited indoor spaces to help freshen a room and by using sustainable materials in construction the carbon footprint of the system is kept to a minimum.
Source: iGreenSpot