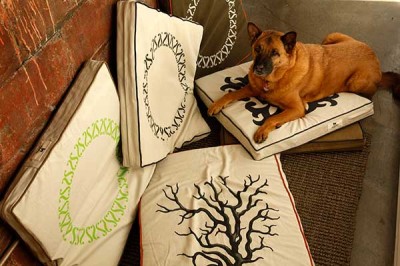 Island Dog Design have a range of eco-friendly dog beds and crate pads that are perfect at providing comfort and style from natural products that are kind to the earth are your pet. Using natural plant based materials the beds are ideal for larger dogs that require support for their frames and joints.
Island Dog Design created the range of dog beds and crate pads originally with larger dogs in mind. Many beds and pads on the market do not provide adequate support for their frames, compressing down to nothing when the dog lays down. The creators wanted to use materials which were natural and kind to the planet, but also benefited the dogs they were intended for. The search lead them to use a natural latex foam pad which is made from rubber. The rubber is collected from rubber trees, much as maple is making it a sustainable material.
The foam is 100% natural, is pesticide and chemical free and will even biodegrade when left out in the elements, decomposing in a matter of weeks . It has many additional benefits that make it perfect for use as a dog bed, it is anti-microbial and hypoallergenic, it naturally repels dust, mites, mold and mildew, it is even resistant to dog smells!
The foam pads are covered with 100% cotton covers, usually from organic sources when possible. The cotton is strong and durable, able to resist sharp claws while providing comfort. Each cover can be removed from the pad and machine washed, the foam pad itself can be washed down with soap and water and left to dry. The covers come in a range of sophisticated and beautiful designs and come in a range of colours.
Island Dog Design dog beds and crate pads offer style and comfort for your pet without causing discomfort to the environment. The sustainable materials used create a bed to fully support the body and needs of your dog. A portion of all profits by Island Dog Design go to animal rescue organizations.
Source: Island Dog Design