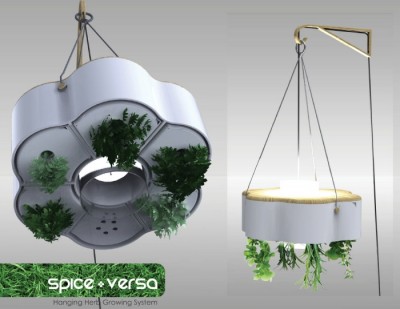 The Spice-Versa is a concept for a hydroponic herb growing system specifically designed for those with small homes. Being able to grow fresh herbs at home has eco-friendly benefits and can help fragrance your room with refreshing herb scents.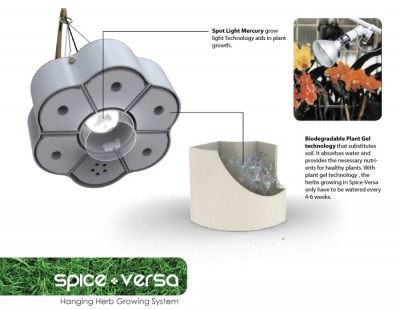 The Spice-Versa is a concept design by Ana Arguezo for a system of growing herbs at home without taking up a large amount of space. The system allows the herb planter to hang with the plants growing upside down, the planter can be hung from a ceiling or a wall anywhere, high up enough to not take up any needed space but still allow access to the herbs themselves.
The Spice-Versa is made up of 6 sections surrounding a central light, the light used is a mercury spot light which is perfect for helping plants to grow. Each section is filled with a biodegradable plant gel, this provides the plants with all the nutrients they require and supplies water to the growing plants. The gel locks away water efficiently, allowing you to only need to water the herb garden once every month.
Growing plants indoors is a great natural way to keep the air fresh and clean, the herbs also help add their fragrance to a room, helping to make it more pleasant to live in. By growing your own herbs you have a constant source of fresh herbs for cooking, herbs that have not incurred any travel miles to get to your plate.
The Spice-Versa concept would allow anyone to be able to grow herbs easily in their home, no matter what the size. The herbs themselves would add a green touch to any room, keeping the air pure and refreshing, or to any plate, helping to liven up any meal with home fresh flavour.
Source: iGreenSpot