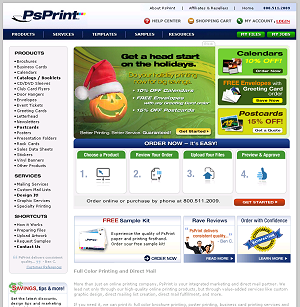 We've yet to see a wide range of eco-friendly gadgets hitting our offices yet, so when the need to print something important comes along, it's more economical to use a printing service. Thankfully some environmentally conscious printing companies are starting to pop up. These printing services can print business cards, custom stickers, custom postcards, custom greeting cards, posters as well as brochure printing. So what's so good about eco-friendly printing technology?
Well it's hardly news that green printing involves using 100% recycled paper products. Decent recycled paper tends to be more expensive, as poor quality recycled paper will just not take the printing inks correctly. Just think how much waste paper your office disposes of each day? So surely using completely recycled paper is a good thing.
However, something that is worth of a note is that PSPrint use a type of ink called soy inks. Soy inks are considerably more biodegradable compared to traditional petroleum-based inks. Traditional inks are typical emit fewer VOCs (volatile organic compounds) too. If you're not sure what VOCs are, just think how much paint stinks. Those fumes are VOCs. Some printed paper can be difficult to recycle, and that paper typically uses traditional ink compounds. Therefore paper printed with soy inks tends to be easier to recycle when the printed material reaches the end of its useful life.
I look forward to seeing soy inks in everyday home printers in the near future!