By Anny on May 19th, 2013
West Paw designs has an awesome range of pet toys, apparel and furnishings in a eco-friendly range of products which have been certified by Oko-Tex Standard 100 after being tested for harmful ingredients. They are safe for your pets as well as for the environment. The furnishings and apparel range are made mainly with Inteliloft® which is made from recycled plastic and other sustainable materials in eco-friendly manufacturing processes.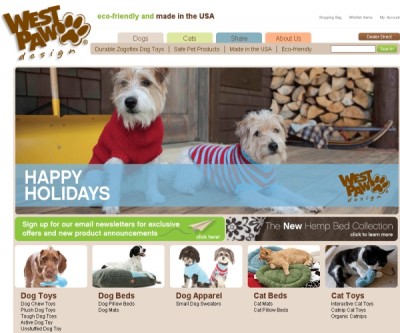 Their amazing range of very strong pet toys is made with Zogoflex- a 100% recyclable material that is very durable. They credit their range to last for a lifetime and if doesn't-a free one-time replacement is offered. West paw designs also uses organic and reclaimed cotton, along with US grown catnip for their cat products. Do also check out a latest range of dog beds made from hemp.
You can buy different varieties of toys for your dog's such as chews, unstuffed toys as well as a rugged range of toys for the tougher ones. Also available are a range of beds, mats, sweaters as well as seasonal dog toys. Cat lovers can choose from interactive and catnip toys and many more. There are also cat beds and mats as well as seasonal gifts. The site also has a collection of blankets, Tees and tote bags for pet owners.
You can view all of their collection and can also purchase online from their website. The site also enables you to search for a retailer in USA and Canada. They are based in Montana.
Link:westpawdesign.com