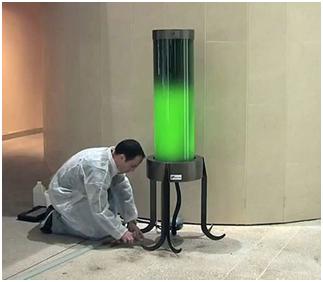 Algae have lived on the earth for billions of years as a large and diverse group of microorganisms. Though this term has been associated generally with the slimy green stuff that accumulates on the surface of a stagnant pond, seaweed and kelp is also member of the algae family.
Algae is much useful and beneficial for human beings according to recent researches and their potential as the major attention has been diverted to energy resources over the last few years and scientists are trying to get use of everything wasted to give efficiency in new way.
Pierre Calleja, French biochemist is researching continuously on algae as a potential source for helping clean the air of carbon dioxide. He has spent several years developing what looks to be an interesting street lamp that feeds totally on carbon dioxide in our atmosphere around us and help to reduce air pollution through these algae lamps.
These algae lamps are bigger in size and look similar to massive tanks which have been filled with water and algae. As you can see from the video below, the lamps, making use of a lighted environment, work with the added micro-algae to scrub out the C02 in the air. What's not exactly clear is how this process works.
There are certainly examples out there of micro-algae being bred specifically to absorb carbon emissions (you can even try building this one if you have the DIY skills), but whether that includes this pet project of Calleja is unknown. Perhaps it involves a carbon sink making use of photosynthesis?
During the researches about this algae lamp, a major confusion has been arisen at the point that whether this lamp would be able to prove itself as self-working lamp to on and off. In a lighted environment, the process that results could perhaps create energy, like a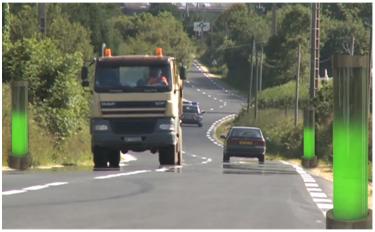 similar idea we wrote about back in 2010 that is inspired by a technique developed by scientists from Yonsei and Stanford University, that might possibly be stored in batteries connected to the tank. The stored energy could perhaps then be used to power the lights at night, though questions have been raised by some, such as at The Atlantic, on how viable this solution might really be.
There's no denying that the street lights are cool, and if they became a regular fixture in densely populated cities – and are actually viable – they could have massive impact air pollution in urban areas where trees are scarce.