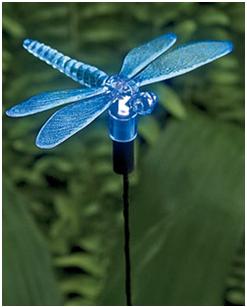 Solar energy has solved our energy requirements to high scale and it has been found that solar energy is more eco-friendly as compared to nuclear energy production or petroleum fossils. The solar dragonfly lights are an amazing addition to your home garden or lawn. These lights are not only limited to their use in home gardens but also used in outdoor decoration ceremonies.
With solar dragonfly lights, you will enjoy a mysterious environment in your garden at evening and night time without worrying about any extra expenditure required for electric lights in your garden or lawn. The operation of these solar dragonfly lights is easy, because they require limited amount of solar energy every day for their charging.
Solar dragonfly lights are much attractive and create a wonderful flickering environmental effect in any place of the garden where you fix them. These solar power lights are charged separately by a solar panel which facilitates to keep these lights in any shaded place. The only care to be taken is that solar power panel should be placed directly in the sunlight.
During the winter fall when trees bare all their leaves and gardens lose their beauty, instead of waiting for spring season to start and enjoying the beautiful flowers, these solar lights will add the true beauty and charm to your garden. You should think of adding news ways to bring enliven and improvements to your garden. So in winter, solar dragonfly lights are a great way to add beauty to your garden and brighten the trees braches and wrap them around the bases of tress to look wonderful or putting them on bare bushes. These lights are wonderful for illumination of gardens, windows herbs, fences, walkways and even the plants in pots.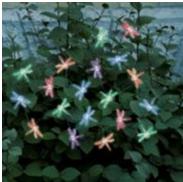 There is no worry for new shoppers about its assembling, because they are already assembled, take them out of the box and ready to use. The major work needed is to find the place where solar panel should be placed directly for ensuring the sun rays. Once this panel is fully charged, it can flow the lights for up to 9 hours maximum. They are bundle of reasons for why to add these solar dragonfly lights in gardens or laws. They are best for decoration outdoor and available as alternative energy solution in gardens instead of using any electric lights.