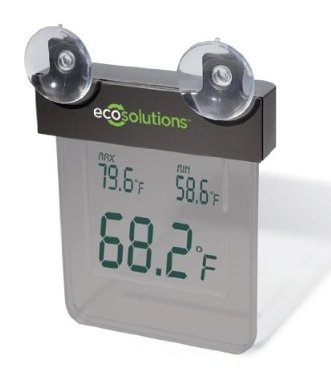 The Solar-Powered Digital Window Thermometer is a digital thermometer that simply sticks to the outside of your window, giving you the current outdoor temperature. No need to venture outside to see how cold it is, as you just need to open the curtains to read it! The window thermometer uses a solar panel to charge itself during the day, saving the need for conventional batteries.
In additon to the current temperature, the thermometer also displays the minimum and maximum temperatures of the day, i.e. how cold and how warm it's been that day (so far). The thermometer is made from durable recycled plastic, so it's not going to fall apart from being in bright sunlight either. When you need or want to clean the thermometer, it easily detaches from the window. You might want to keep your window clean too, so that the suction cups can work properly!
The window thermometer measures 4.5 inches x 1 inch x 3.8 inches (114mm x 25mm x 97mm) and weighs 3.7 ounces (about 100g). The thermometer is available for $25.